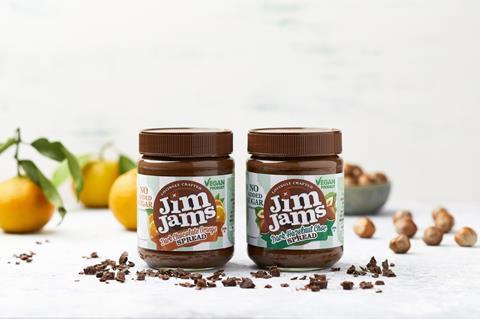 Mission Ventures' Good Food Fund has backed spreads start-up Jim Jams with a £200,000 investment to help scale the business.
Launched in 2015 by Kevin and Kellie Bath, Jim Jams is a family challenger brand in the chocolate spreads category.
It has already won nationwide retail listings with Sainsbury's, Morrisons, Waitrose and Asda, and will go into Teso stores next month. The business also supplies Holland & Barrett, Tesco Express and Merlin Entertainment with its milk chocolate dippers SKU.
"The investment from Good Food Fund is a massive boost for our growth," Kevin Bath said.
"The additional support from Mission Ventures will help us immeasurably in shaping the business and continuing to offer parents healthier options to everyday snacks and store cupboard staples."
Start-up accelerator Mission Ventures, alongside partners Guy's and St Thomas' Charity, launched the Good Food Fund in 2020 targeting challenger brands helping to reduce childhood obesity. The £1.8m fund, which is backed by early stage VC firm Ascension Ventures, has since widened its scope to take in any brands manufacturing healthier products.
"We're committed to helping challenger brands like Jim Jams provide healthier alternatives for all families," Mission Ventures CEO Paddy Willis said.
"Our accelerator programme is run by entrepreneurs for entrepreneurs and designed to optimise their chances of scaling successfully to compete with market leaders."
Jim Jams will receive 12 months of free accelerator support by Mission Ventures as part of the investment package.
Matt Towner, portfolio manager at Impact on Urban Health of Guy's and St Thomas' Charity, added: "In order to tackle childhood obesity effectively we need to take on the torrent of unhealthy food options faced by families. Making healthier versions of popular products is a key part of this and we are delighted to see the Good Food Fund invest in Jim Jams."