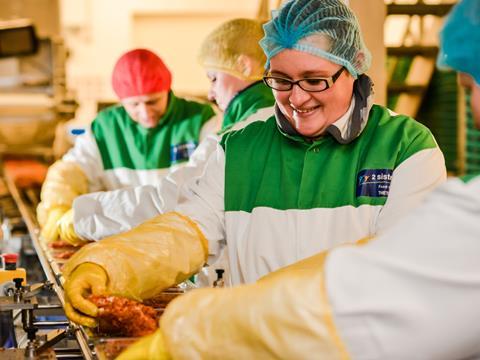 Ratings agency Moody's has cut the credit ratings of 2 Sisters owner Boparan after its profits tumbled in the wake of the poultry food safety scandal at its West Bromwich factory.
Moody's has cut Boparan's rating by one notch from B3 to Caa1.
The rating was already considered sub-prime – colloquially known as junk – but the downgrade cut its rating from a band described as "speculative and high risk" to a rating considered "poor standing and subject to very high credit risk".
Paolo Leschiutta a Moody's Senior Vice President and lead analyst for Boparan, commented: ""The downgrade of Boparan's ratings reflects further deterioration in the company's operating performance during the second quarter of its fiscal year 2017-18 and our expectations that EBITDA generation over the coming quarters will remain weaker than our assumptions at the time of the rating downgrade to B3 in November last year."
2 Sisters' most recent financial update for the 13 weeks to 27 January revealed a 71% plunge in operating profit from £19.4m back to £5.7m as operating margin dropped to just 0.7% from 2.3% in the corresponding period last year.
However, there was a the ratings agency did recognise 2 Sisters is "undertaking a number of measures" to rectify its fall in profitability – including price increases, efficiency savings, asset disposals and better working capital management.
Most notably the group raised £200m with the disposal of Goodfella's to Nomad earlier this year and is also pursuing other asset disposals, including a possible sale of Irish fish processor Donegal Catch and a rumoured spin-off of Fox's Biscuits.
However, Moody's said some of these remedies "remain subject to a high degree of execution risks" and will also result in a number of one-off charges and exceptional restructuring costs, which will depress cash flow generation or profits.
Moody's expects EBITDA improvement over the next 12 months to be constrained by delays in recovering high input costs due to the price sensitive food retail market in the UK, competitive pressures, and further increases in the national living wage. A
Additional measures to strengthen quality control following the recent hygiene failings allegations will also further pressure already thin margins, the ratings agency said.
Boparan's UK poultry operations are less affected than the rest of the company's activities by higher input prices because approximately 70% of UK poultry sales benefit from contractual pass-through arrangements for key poultry feedstock. But Other operations, including the red meat businesses, offer however less flexibility exposing the company to input cost volatility.
Leschiutta added: "Although the recently announced disposal of Goodfella's will have a positive impact on the company's net debt position and will reduce somewhat the refinancing risk in relation to the £250m notes due in July 2019, the Caa1 rating signals our concerns that the capability to improve profitability remains subject to significant execution risks while market conditions remain challenging"
As part of its restructuring drive, 2 Sisters last week confirmed plans to close its loss-making factory in Cambuslang, Scotland, with the loss of about 450 jobs.
The move follows a turbulent six months for the business, which was the subject of a high-profile investigation by the Guardian and ITV in October that alleged food hygiene breaches at one of its chicken processing plants.