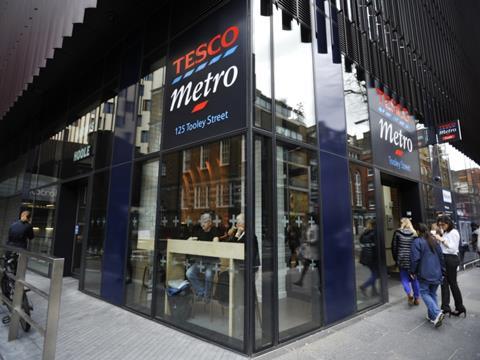 Tesco has lost its investment grade credit rating with Moody's Investors Service after the ratings agency downgraded the supermarket by one notch last night.
Tesco's share price soared by over 16% yesterday after CEO Dave Lewis laid out his strategic priorities, but Moody's took action on concerns that the measures outlined will not improve trading quickly enough.
Tesco's unsecured long-term ratings were downgraded to Ba1 – which is deemed speculative grade – from Baa3.
Sven Reinke, Moody's lead analyst for Tesco explained: "We have downgraded Tesco's ratings because of our expectation that the structural changes in the UK grocery retail market will continue to challenge the company's operating performance even with the benefits of the significant restructuring actions announced by the company earlier today
Moody's argue that the increasingly competitive environment among UK grocers will foster continued pricing pressures that could result in a permanent reduction in average operating margins in the industry to the 3%-4% range.
It said that Tesco's cost cutting and efficiency programme, including the closure of its head office in Cheshunt and the closure of 43 underperforming stores in the UK, will "help to stabilise the company's UK grocery operations, but their full effect will not be felt in the immediate future".
"Tesco's sustainable debt capacity is impacted by the company's long-term operating profit margin that will likely remain below its historic level," the ratings agency stated.
Tesco did announced a number of measures, including the sale of Blinkbox and exploring the sale of Dunnhumby, to sure up its balance sheet, but Moody's said: "Even after a successful execution of intended assets sales the company's leverage will likely remain at levels more consistent with a Ba1 rating over the intermediate term."
The other two major global ratings agencies, Standard & Poor's and Fitch, both rate Tesco one notch above junk with a negative outlook.
Fitch said last night that Tesco's trading update "indicates a desire to protect sales volumes and market share, which will weaken profitability in the short term".
However, the ratings agency added that its cost-cutting and disposal plans reinforced its expectation that the group will use available strategic options to restore credit metrics to a level appropriate for its current 'BBB-' rating.