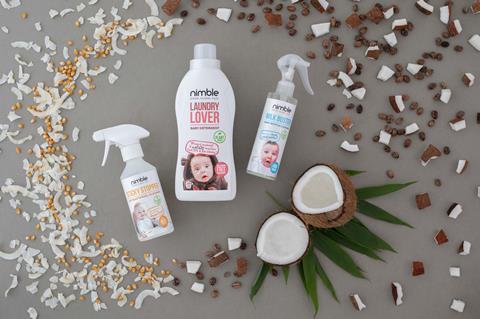 Plant-based child-friendly cleaning products supplier Nimble has launched its first crowdfunding campaign to support its upcoming foray into Sainsbury's stores.
The company is looking to raise £100k on Crowdcube in exchange for a 4.4% stake – valuing the business at £2.2m.
Already stocked by Boots, Amazon and Ocado, Nimble plans to use the funds to execute initial marketing activities in support of its launch into 375 Sainsbury's stores scheduled for 29 December.
"We want to launch with a bang and get every home using safe products for kids," founder Von Sy said. "We will use the money to book various marketing activities within Sainsbury's and Boots to ensure people know we exist as a brand."
Having sold over 80,000 units since launching in 2015, the brand is also available in Taiwan, the Philippines, the Czech Republic and the Middle East.
Nimble's range – comprising a patented baby bottle cleaner, surface spray and laundry detergent – is perfectly safe to use on children's products as it contains no harsh chemicals, Sy added.
The baby bottle cleaner can also be used for water bottles and protein shakers.
Since launching on Monday (11 November), the campaign has already raised £74.5k from 112 investors.
"I am very happy with the momentum so far and I am confident we will be able to raise the funds we need," Sy added.
The brand is open to overfund with the additional cash earmarked for NPD, trade shows and to develop Nimble's e-commerce channel.
The company forecasts revenues of £120k for 2019, 253% higher than 2018's £34k. Profitability is expected to be achieved by mid-2021, following losses of £60k in 2018.