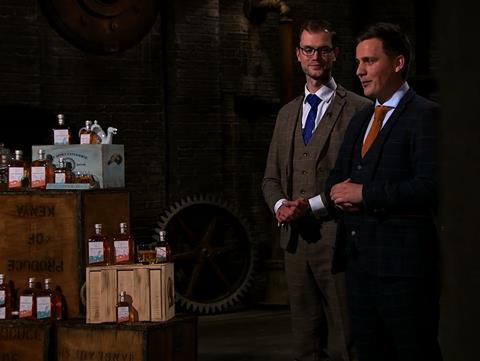 Alcoholic tea brand Noveltea secured a £340k cash boost from the crowd after rejecting investment offers on Dragon's Den.
The unique spirit company appeared on Sunday 4 November's episode of the BBC Two investment reality show, but left without any funding despite receiving a number of offers from interested dragons.
Following three separate offers for £80k at 40% equity from Tej Lalvani, Jenny Campbell and Touker Suleyman, the three dragons offered a joint bid of £80k for 30% of the business.
Having initially entered the den with the intention of giving away 10% equity, founders Vincent Efferoth and Lukas Passia walked away from negotiations.
Shortly after filming the programme, the pair then launched a Crowdcube campaign in order to raise £150k, at 9% equity, to go towards working capital and recruitment.
After reaching out to the crowd in August, the start-up overfunded, securing £342k in funding.
"As a start-up you can't usually afford that exposure. Although we didn't make a deal, it was still a fantastic experience," commented co-founder Efferoth.
"A big part of the money will be used for working capital as we expand internationally. We've just launched in Germany, and there is increasing demand in the UK and China as well so we wanted the funding to drive that growth."
The premium brand, which has gained listings at Harrods, Fenwick and John Lewis, currently produces two flavours, The Tale of Tangier, mixing Moroccan green mint tea with Caribbean rum, and The Tale of Earl Grey, which infuses Earl Grey tea with British gin.
The brand is in early discussion with potential distributors from foreign markets, such as Canada, India, China and Switzerland, aims to explore the international market in 2018.