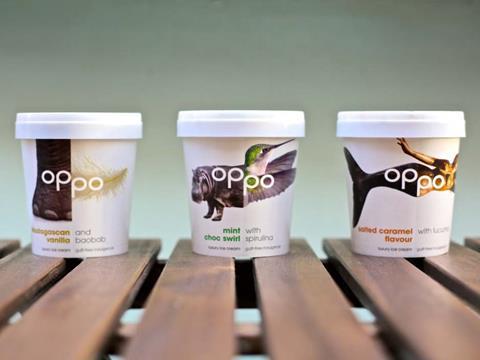 Oppo ice cream has smashed its new crowdfunding target of £150,000 before the latest campaign has even officially launched, with hundreds of new investors flocking to the brand.
The business, which makes sugar-free ice cream using milk, coconut oil, stevia and super foods, has returned to the crowd following a successful pitch at the beginning of 2015 to raise fresh cash for marketing.
Almost 300 investors have pledged money for the new campaign on crowdfunding site Seedrs following a soft launch, raising £195,000 so far – 30% above the initial target – for a 6.6% share in the company.
Founders Charlie and Harry Thuillier plan to overfund up to about £250,000 when the pitch officially goes live on Monday.
It follows Oppo hitting its £100,000 target within minutes of its first fundraising attempt a year ago, a record for food and drink companies using equity crowdfunding and the most oversubscribed Seedrs campaign at the time. The business, which is backed by Gü Puds MD Mark Escolme in a non-executive role, went on to raise £300,000 to scale up distribution and expand its listings.
Launched in October 2014 by the brothers in 117 Waitrose stores and on Ocado, the range of three flavours is now available in 1,300 outlets across the UK, including Budgens, Holland & Barrett and Co-op, as well as in cinemas, hotels, hospitals, theatres, offices, health shops and Premier League football clubs.
"The focus for this year is to drive growth by investing in marketing to raise awareness of the Oppo brand, build rate of sale in the existing retailers and increase our store listings," Harry Thuillier said.
He added the new Seedrs campaign was as much about gaining new brand enthusiasts as it was about raising capital.
Oppo now has close to 500 investors – with 197 from the first round and more expected before the close of the new campaign – to help raise awareness and spread the message.
Charlie Thuillier said the business had received an approach from one individual for the entire £150,000 but turned it down. "We have also had numerous approaches from venture capitalists but that is not what we are about. We want to be as open as possible and build a community who are invested in the brand."
Oppo will use the new money to fund marketing, including a campaign by Red Bull's agency Kastner & Partners, hiring a dedicated social media executive and sending 30 new sampling ambassadors out to food festivals and events across the UK.
The business is getting ready to add a chocolate flavour to its range of Madagascan vanilla with baobab, mint choc swirl with spirulina and salted caramel with lucuma.
Oppo has grown rapidly since launch, with revenues on track to pass £1m in the next couple of years, satisfying increasing consumer appetite for healthier products. Its ice cream, which commands a high price of about £5 for a 500ml tub, has 60% less calories per 100ml than regular ice cream.
Charlie Thuillier said the new initiative by Unilever to reduce the calorie content of all their single-serve ice creams to 250 or less confirmed Oppo's whole proposition.
"Big companies need to reformulate and innovate but taking sugar and additives out of ice cream is hard. If they could do it, they would. The toxic environment circling around sugar and a more health-focused consumer gives opportunities to start-ups like us," he added.
The Thuilliers have ambitions to grow the brand into new categories with a focus on transforming indulgent products with healthy innovations. "We have a very good idea of how we want to grow Oppo and proving that health and indulgence can go hand in hand."