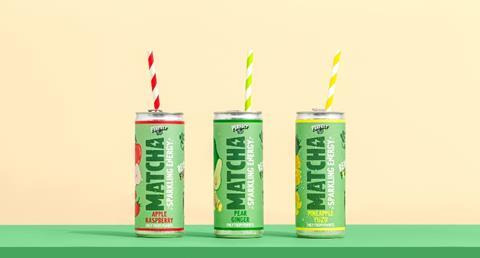 Energy drinks start-up PerfectTed has secured high-profile investment following an appearance on Dragons' Den.
The healthier drinks brand accepted a combined £50k offer from Steven Bartlett and Peter Jones in return for 5% equity each - valuing PerfectTed at £500k - with all five dragons agreeing to back the business on the BBC show last night (2 March 2022).
The investment comes as PerfectTed launched in 1,200 Tesco stores and is included in the supermarket's meal deal.
"Being chosen to be featured on Dragons' Den early into our journey as a business, and ultimately securing five offers, high-profile investment and mentorship is testament to the crucial need that PerfectTed fulfils," co-founder Marisa Poster said.
She added the Tesco listing also made the natural energy drink "readily accessible nationwide and marking yet more rapid growth for our business".
Poster founded PerfectTed in late 2021 alongside brothers Teddie and Levi Levenfiche.
It has since gained listings in 3,000 distribution points, including 600 Holland & Barrett stores, Whole Foods and Planet Organic, as well as M&S sushi counters and food-to-go operators such as Joe & the Juice.
PerfectTed generated revenues of £200k in its first year, with a projected top line of £4m in year two.
Its three-strong range is made using 100% natural ingredients, with no additives, preservatives or added sugar. The combination of matcha green tea, sparkling water and fruit juice gives each can 80mg of caffeine, which is equivalent to a Red Bull.
Bartlett said: "I'm thrilled to support this incredible product and its visionary creators as they revolutionise the beverage industry with their unique blend of matcha and energy-boosting ingredients. PerfectTed is more than just a drink, it's a symbol of what can be achieved with creativity, determination, and a willingness to take risks. I am excited to see where this journey takes them and proud to be a part of their success story."