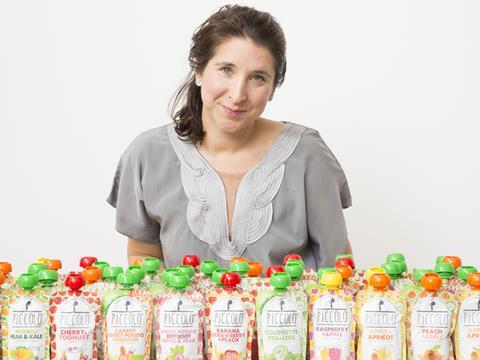 Fast-growing babyfood startup Piccolo has secured a six-figure injection from an Asian-focused venture capital fund to help the brand capitalise on booming demand in China.

DSG Consumer Partners, which invests in early stage consumer businesses, has invested £500,000 to support Piccolo's growth ambitions in the UK and expansion outside Europe to China, Korea, Singapore and India.

Demand in Asia is building for babyfood on the back of formula scandals, increasing birth rates and growing middle class affluence.

DSG founder Deepak Shahdadpuri joins early Piccolo backers Bake Off judge Prue Leith, former Green & Black's CEO Andrew Baker, ex-Pizza Express boss Mark Angela and Lion Capital director and former PepsiCo executive Jan Woods, taking investment to over £1m since it launched in 2016.
Piccolo's Mediterranean-inspired baby food pouches are listed in more than 1,000 Waitrose, Asda and Boots stores in the UK, as well as Ocado, Planet Organic and Whole Foods. Revenues are forecast to hit £3m in the 12 months ended 31 March 2018 and double in the following year.
Piccolo also plans to use the cash injection to grow its UK listings, develop its NPD pipeline, hire marketing and international managers and support its charity work.
"As a father of three, I am only too aware of how important it is to introduce your little ones to quality food and flavours from the very beginning," Shahdadpuri said.
"This is one of the reasons I was so interested in Piccolo – I believe them to be a hugely exciting and innovative fast-growing company on the edge of huge growth, and I want to help them realise this potential. I'm looking forward to working closely with the team in London and encouraging them to be the global brand I know they can be."
Piccolo founder Cat Gazzoli added: "At Piccolo we are proud to be a family business. We only want to work with people who have similar values and outlook to us, and we are thrilled Deepak is joining Casa Piccolo as an investor.
"We want to grow big but stay thinking small, so we can continue to offer our quality ingredients and personal relationship with the parents that buy Piccolo pouches across the world."
Gazzoli, who worked in food education for the United Nations and ran non-profit organisation Slow Food for six years, founded Piccolo on ethical principles.
The brand has pledged to give 10% of profits to charities such as the National Childbirth Trust and recently developed a new initiative to donate more 100,000 baby food pouches to struggling families. Piccolo has committed – in partnership with UK food bank co-ordinator the Trussell Trust – to give away one of its pouches for every one sold over five weeks in October and November.
DSG currently has $100m under management and is investing in Piccolo from its DSGCP II fund.