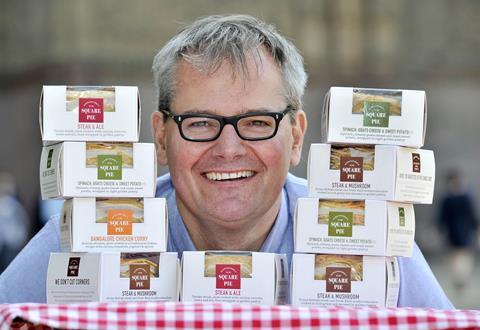 Gourmet pie business Square Pie, which has listings in Tesco and Ocado, is aiming to raise up to £2m from a crowdfunding campaign to add new products to its supermarket range and expand its portfolio of restaurants.
The company has launched a mini-bond offering on Crowdcube with an interest rate of 8% a year and a target of between £750,000 and £2m.
Square Pie, founded in 2001 by Martin Dewey at Old Spitalfields Market in London's East End, currently operates five restaurants across the capital and one in Kent. It launched its branded range of four classic pies and five mini-pies into supermarkets last year – and is now stocked in 80 Tesco stores and by online grocer Ocado.
"Last year, 700,000 people enjoyed Square Pie food and, by issuing this 'pie bond', those fans can now get a slice of the pie for themselves by financing our growth and helping us take our fantastic food to more and more people across the country," Dewey said.
Square Pie is on track to more than double sales in the 2015 financial year to £5.4m, compared with £2.6m in 2014. However, its projections suggest it will make a loss of £116k after incurring exceptional costs of almost £137k as it invests in its rapid growth. The company is expecting revenues to reach more than £22m by 2019, with plans to have 30 restaurants in its portfolio.
The company, which will open a seventh site in Birmingham in September, also operates at major events and sporting grounds such as Wimbledon and Twickenham, as well as at music festivals, including Glastonbury.
Square Pie has already raised £122,500 in the Crowdcube campaign from 51 investors. It said its bond would be repaid in four years' time.