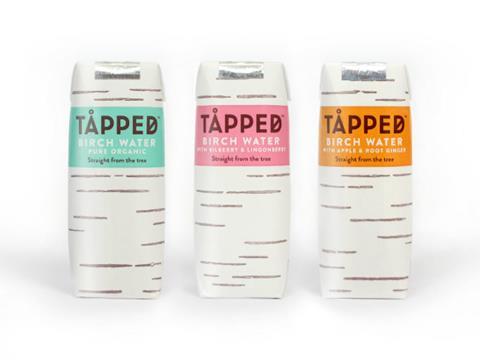 Birch water brand Tapped is raising £200,000 in a crowdfunding campaign to invest in marketing and grow its product range.
It comes as investor interest in alternatives to artificially sweetened soft drinks continues to rise.
Founded in 2015 by former Innocent Drinks employees Paul Lederer and Charlie Hoare, Tapped has won several high-profile listings with national retailers this year, including Sainsbury's, Boots, Ocado and Holland and Barrett, as well as an upcoming rollout in Waitrose in July.
The three-strong range of birch waters is also available in Whole Foods, Planet Organic, Ocado, As Nature Intended and Amazon, as well as in yoga studios, gyms, coffee shops and delis.
Sales at the business increased by 87% over the past 12 months to £160,000 and are forecast to rise another 83% to almost £300,000 this year said Lederer, who spent four years as commercial manager at Innocent until 2010.
Tapped is hoping to raise £200,000 in a Seedrs pitch, giving away a 9.2% stake in the business, which values it at close to £2m. The campaign is already 75% funded at time of writing, with 100 investors committing £150,000.
The company plans to use the money for sales and marketing activities, as well as expanding the range with new flavours and pack sizes.
"Having expanded our distribution base for Tapped this year, now is the time for us to invest further in marketing so we can raise awareness, trial and consumption of birch water," Lederer added.
Hoare, who spent more than two years as a commercial executive at Innocent, said: "We have several new flavours ready for our 250ml format and have had enquiries about a larger pack from half a dozen retailers."
Birch water brands are hoping to replicate the success of coconut water, which has exploded from a niche to a household category in the past few years.
Sibberi, a birch water brand also launched in 2015, was snapped up in May by Westlab Group as the bath mineral salts business sought to tap into the growing clean living trend. Aloe vera juice brand Simplee Aloe also secured almost £1m in venture capital funding last month.
Tapped said that tree waters are forecast to grow into a $1bn-plus global market over the next decade as consumer continue to shun sugary and artificially sweetened soft drinks as the war on sugar intensifies.