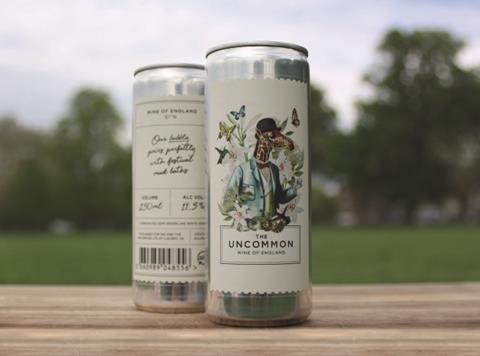 Canned English sparkling wine startup The Uncommon has launched a crowdfunding campaign to raise £25k to create an urban winery.
The company, which claims to have launched the UK's first sparkling wine in a can, has launched the funding campaign on IndieGoGo to fund the new South-East London wine-making facility with a "state of the art" canning line.
Founded 18 months ago by Henry Connell and Alex Thraves, The Uncommon is also looking for funding in order to expand its wine range for 2019 and beyond, and hopes to build a wine bar in the future.
The canned wine has launched exclusively in Selfridges and the company said extra funding is necessary to sustainably meet increasing demand (rsp: £5/250ml).
This summer the business is partnering with festivals and boutique hotels, and is looking to increase listings in convenience.
The founders plan to launch new organic wines and rose made from English pinot noir, grown and hand-picked at a vineyard in Surrey.
The Uncomon's English wine is produced with an EU Protected Designation of Origin (PDO) rating, as a sparkling dry white wine made from Bacchus grapes. It added that it hopes to raise the profile of domestic wines and crack down on wine wastage.
The single-serve can would "help to reduce the billion litres of wine thrown away each year in the UK", said the brand. "Fizz goes flat after just a day so it's the perfect solution for bars, restaurants and cheeky toasts at home."