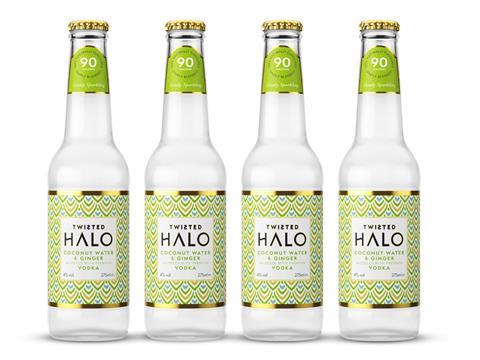 Alcoholic coconut water brand Twisted Halo is set to launch a £450,000 crowdfunding campaign next week to expand its range and increase distribution.

Twisted Halo will give away a 14% equity stake if it hits the pitch target on Seedrs, valuing it at over £3m. The sparkling coconut water, ginger and vodka drink is stocked in Whole Foods, Daylesford Organics, 31 Dover, Harvey Nichols and Ocado, as well as over 30 pubs and bars.

Founder Jess Titcumb, who launched the business in 2015, created the drink to tap growing demand for low-calorie alcoholic drinks that are low in sugar. The campaign, which goes live on 30 May, will be the first time Twisted Halo has raised cash from the crowd, but it is its second funding round.

Giles Cooper, Virgin Startup mentor and early stage investor, said: "Jessica has created a drink that is disrupting the market and is providing exactly what consumers want from an alcohol brand: low calories and less sugar. As an early stage investor, I am absolutely thrilled to see the brand go from strength to strength and that this unique opportunity will enable members of the public to own a part of Twisted Halo."
Titcumb added: "We are very excited to be starting the second round of investment, to launch our delicious new flavours, new pack formats and to get wider distribution across the UK."It's been an incredible journey to date and we want to give our loyal fans a chance to share our future success and be a part of The House of Halo."

The alcoholic coconut water contains 90 calories per 275ml bottle, has 4% abv and 100% naturally flavoured and free of added sugar or sweeteners.