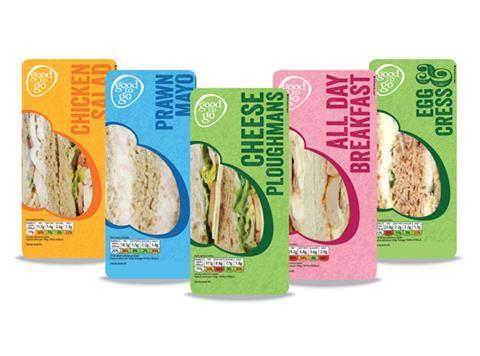 Musgrave GB has launched a new range of sandwiches for Londis and Budgens retailers under the brand Good to Go.
The company has revised its 23-strong range of SuperValu-branded sandwiches down to 13 varieties and added new branding, which has been designed to tap into shoppers' "lunchtime mentality".
Musgrave said the new lines, which have been developed by Melton Foods and went into Londis and Budgens stores yesterday, have been made with fillings that generated 88% of sales in the previous SuperValue range, as well as higher quality ingredients.
"The new range brings further opportunity for Budgens and Londis retailers to benefit from the lunchtime opportunity," said MD Donal Horgan. "The Good to Go brand ties in with shoppers' lunchtime mentality and will help drive sales and profitability for Budgens and Londis retailers in this category, which is seeing growth in the market of around 2%."
The Good to Go branding, which is currently used at dedicated hot food-to-go areas in store but is not on any other lines, has a clear window design and colour-coded packaging, Musgrave said. It will remain part of SuperValu's mid-tier range, with SuperValu branding on the back of the packaging.
Musgrave added that the RSPs on the range had also been lowered "in line with increasing shopper demands for quality and value", though the company was unable to reveal by how much.
The new Good to Go range includes: Egg & Cress, Cheese & Onion, Cheese & Tomato, Tuna & Sweetcorn, Ham & Cheese, Cheese Ploughmans, Prawn Mayo, Chicken Salad, Egg & Bacon, Bacon Lettuce & Tomato, All Day Breakfast, Chicken Fajita Wrap and Chicken Caesar Wrap.