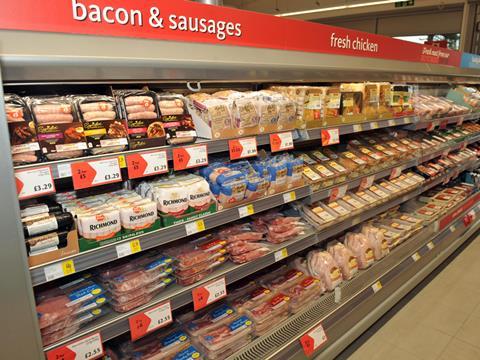 Rapidly rising protein prices are keeping supermarket inflation at four-year highs, according to the latest Grocer Price Index.

The GPI, collated by Brand View from over 60,000 individual supermarket SKUs, remained at 2.4% in the month to 1 September - matching the level of inflation from the month to 1 August, which was the highest month of supermarket price rises since September 2013. Month-on-month prices edged up a further 0.2%, extending last month's two-year high for overall indexed grocery prices.

Meat, fish & poultry remains the primary driver, with the category now up 4.7% year on year.

The category is now at its highest level of absolute prices since the month to 1 July 2015 and has rocketed 9.3% since hitting its lowest level of the deflation era in the month to October 2016, which suggests the annual rise in protein prices is likely to rise once more next month.

Other short shelf-life categories also saw their largest year-on-year price increases since grocery deflation took hold in mid 2014. Annual dairy prices were up to a new high of 3.7%, while chilled goods rose 3.3%. However, fruit & veg remains almost flat (up 0.1%) year on year despite the high proportion of imported goods and the weak pound.

Of the 14 categories tracked by the GPI, only soft drinks (-1.4%) remains in decline. Other major drivers of inflation include biscuits, confectionery and snacks (+3.5%) and baby goods (+3.2%).

Despite the rising measure of headline inflation, three of the big four recorded annual inflation in a tight band well below the overall 2.4% rate. Asda had the lowest level of overall price increase at 1.6%, followed by Sainsbury's at 1.7% and Morrisons at 1.8%.

Tesco proved to be the industry outlier, with its annual inflation reaching 3.7% - the supermarket's highest rate of yearly price increases since the month to 1 April 2012.

Tesco consistently posted the lowest level of annual price rises in the first half of 2017 as inflation returned to the market. However, its prices have risen by more than 2% over the past two months alone compared to more stable or even easing prices at its competitors.Meat, fish, poultry prices at Tesco are up 5.1% on an annual basis - a significant rise from the 1.2% price rises in the category it was posting as recently as the month to 1 April 2017. Other big annual price increases at the supermarket are in dairy (+4.2%) and biscuits, confectionery and snacks (+7.2%).

Waitrose, not included in the overall GPI figure, posted annual inflation of 2.7%, which is its highest level of price rises in the post-deflation era.

On a month-on-month basis, the largest overall price increases since the month to 1 August were seen in baby goods (+1.8%), meat, fish and poultry (+1.2%) and household (+1.2%). Conversely, frozen prices fell 2.9% over the month and bakery prices were down 1.5%.