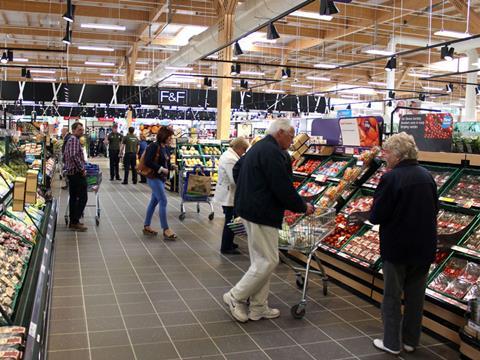 Tesco recorded its highest level of price inflation for over five years last month and the UK's biggest supermarket continues to prop up overall grocery inflation even as prices at its competitors stabilise.

Tesco has now experienced the highest level of inflation across the big four in each of the past seven months, but it goes further than that, reaching levels not seen since April 2012, at 3.8% in the month to 8 February.

According to The Grocer Price Index, collated from over 60,000 individual and unweighted SKUs across the big four, inflation at Tesco has been running at 3.4%-3.8% since August even as it has tailed off at rivals. Sainsbury's recorded inflation of 1.2%, down from its 2017 high of 2.1% in November, while Asda and Morrisons recorded annual price rises of 1.1%, both down from highs of 2.8% in October.

Averaging out inflation across the big four, the GPI figure for the month to 1 February stands at 2% - a slight uptick from 1.9% last month but down on the 2.9% recorded in October.

Tesco's inflationary streak is in marked contrast with the first half of 2017, when it delivered the lowest level of inflation across the big four for all but one month, suggesting it delayed price increases until the second half of the year.

Examination of The Grocer 33 mystery shopper results shows its mounting inflation is beginning to hit customers at the tills.

After picking up three victories by mid-August it has not been the lowest priced supermarket in The Grocer 33 since and has been the highest priced big four retailer in two of the past three weeks, with the price gap to Asda and Morrisons increasing.

On a two-year basis Tesco's prices have risen by more than its rivals. Tesco is currently 2.8% more expensive than in February 2016, against an industry average rise of 2%.

Twelve of the 14 categories are still inflationary, led by chilled (4.7%), dairy (4.2%) and biscuits, confectionery & snacks (3.8%), with only household goods (-2.6%) and soft drinks (-0.1%) down. Inflation remains modest in baby goods (1.8%) and alcohol (1.6%) and health & beauty (1.1%).

But inflation is particularly marked at Tesco, with eight categories rising by over 4%, led by biscuits, confectionery & snacks at 7%, frozen (5.2%) and dry grocery (4.7%).

New figures from Kantar Worldpanel this week found grocery inflation remains close to four-year highs at 3.6%. The disparity with the GPI is explained by the weighted nature of Kantar's basket.

On a month-on-month basis the GPI rose 1.1% last month, with a 4.4% monthly rise in the price of alcoholic drinks helping drive the figure upwards.

Despite recent inflation, the overall GPI remains 2.9% lower than the peak of supermarket prices reached in May 2014.