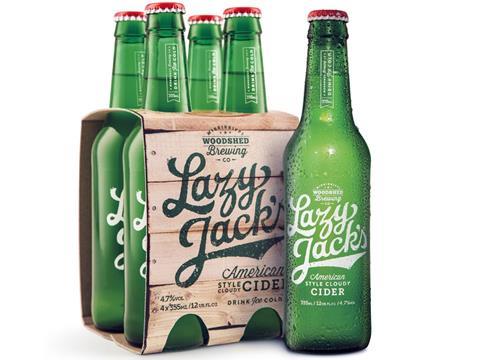 Crabbie's owner Halewood International has unveiled a new "American-style" cider - and says it won't be taking the brand into the burgeoning fruit-flavoured category.

Describing the roll-out of 4.7% abv cloudy apple cider Lazy Jack's as its first scalable launch since Crabbie's, Halewood is aiming the drink at 22 to 30-year-olds. The drink is rolling out this month to Bargain Booze and will go into supermarkets from June (rsp: £4.89/four pack and £1.29/singles).

Lazy Jack's is packaged in green glass 12 fl oz (355ml) bottles - a popular format in the US - and had a taste profile that made it suitable for pairing with American food such as pulled pork, said Halewood.

Marketing will play up the American theme of the brand - Liverpool-based Halewood described the drink as "inspired by the heat of the Mississippi summer" - and will include sampling at events such as the Grillstock barbecue festivals, and a digital campaign. "Lazy Jack's capitalises on the consumer desire for American-themed lifestyle," said innovation director Richard Clark.

Halewood has spent 18 months developing the cider and is looking to launch more apple-based variants. "There has been a lack of apple innovation for some time, and there's an opportunity for apple to be the next big growth area," added Clark.

The launch of Lazy Jack's comes months after C&C Group rolled out its 4% abv Hornsby's American-style cider in apple flavour and pear with strawberry & lime.