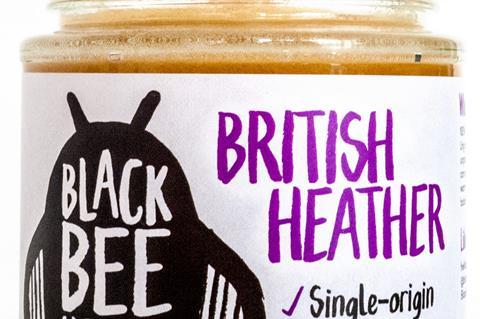 Black Bee Honey has set its sights on stealing manuka's spotlight, after a round of scientific testing revealed it was "top of the scale" for antimicrobial properties.

The British Heather Honey, harvested on Exmoor's National Park, was tested by Minerva Scientific for its antibacterial activities.

It was rated by Minerva on a scale referred to as total activity (TA), on which any honey with a score of 10 or above may have beneficial antimicrobial properties, which are more effective as the TA level increases.

Black Bee said its British Heather Honey's score of 21 was equivalent to a unique manuka factor (UMF) of 20-plus.

Manuka honeys with a UMF of 20-plus can retail for as much as £109 for a 250g jar. British Heather Honey is currently on the market for £12.95 for a 230g jar. Black Bee said it would be promoting the TA result on the tamper sticker of all new jars of British Heather Honey.

The honey is billed as having a "toffee colour, crunchy texture and an aromatic, smoky flavour". It also contains vitamins A, C, D and E and has "high concentrations" of vitamin B that would "be lost in the pasteurisation process of commercial products".