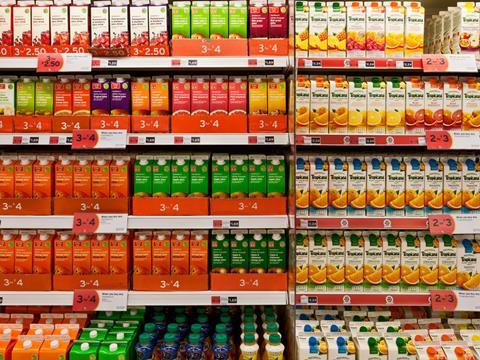 The Department of Health looks set to reject calls to remove fruit juice from the official list of 5 a day products, with a report from its expert panel finding "no evidence" of a threat to dental health or obesity.
Instead of removing juice from the list, as health campaigners have been urging, the panel of experts brought in to oversee an overhaul of the 5 a day message will call for a clarification of the guidance to restrict intake to no more than 150ml per day, The Grocer has learned.
Members of Public Health England's 5 a day reference group are due to meet this week to finalise their plans, which also include extending the range of products able to use the logo to composite foods, including ready meals.
A report to the meeting reads: "Members considered the outcome of the NDNS data review (identifying the most commonly consumed fruit and vegetables and the contribution of fruit juice to nutrient intakes) and the outcome of the rapid review on fruit juice and health.
"Members noted that it was not possible to dissociate any effects of fruit juice from the original evidence based on which the 5 a day scheme was founded.
"They also agreed that there was no evidence to suggest fruit juice should be excluded from 5 a day messaging or use of the 5 a day logo scheme as long as restrictions around portion size and wider messaging remains to reduce risk to dental health."
Campaign group Action on Sugar has led a campaign for fruit juice to be scrapped from the list, after releasing a report last year stressing that many children's juices contain at least six teaspoons of sugar - more than cola.
Last year chief medical officer Dame Sally Davies called for a sugar tax to be put on products including juice, while other prominent scientists, including Dr Susan Jebb who chairs the Responsibility Deal food network, also likened fruit juice to Coca-Cola due to its high sugar content.
However, nutritionists have expressed fears that removing juice could also make it harder for families to hit the 5 a day targets, with the latest results from the National Diet and Nutrition Survey (NDNS) showing fewer than one in 10 children aged 11 to 18 meet the recommendation.
According to PHE children aged four to 10 years have the highest mean consumption of fruit juice at the equivalent of 111ml/day, with older children (11-18 years) consuming slightly less at 104ml/day and young children (18 months - three years) 72ml/day.
Adults consumed the equivalent of 65ml/day.
"There was a widespread feeling that if you removed fruit juice from the list it could make this figure even worse. Instead, there the message will all be about how fruit juice is fine but that it should be 150ml a day," said a source involved in the discussion.