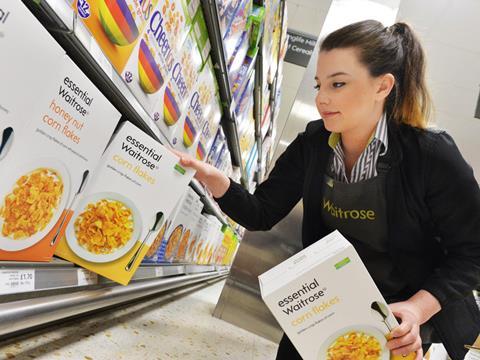 Waitrose is cutting the sugar content in its own label breakfast cereals, stripping out nearly two tonnes, equivalent to more than 7.5 million calories.
The commitment means a 15% sugar reduction in Corn Flakes, one of the supermarket's top-selling lines, and significant sugar reductions in other popular lines including Honey Nut Corn Flakes and Choco Pops.
The latest move means that by the end of the year Waitrose will have cut a total of nearly 25 tonnes of sugar from own label products.
"Breakfast is an essential part of a healthy lifestyle so Waitrose will continue to focus attention on cereals and other popular breakfast choices such as sweet pastries, smoothies, yoghurts and juices in the coming year, so we really can help customers make a healthier choice," said Waitrose nutrition manager Moira Howie.
"We are also adding healthier ingredients which have nutritional benefits into our own label range such as wholegrains, vegetables and fruit."
During the past year, seven tonnes of sugar were cut from Waitrose chilled juices, and 14.6 tonnes from its own label yoghurts.
Sugar content has also been slashed in undiluted juices, cordials and squashes by between 5% and 15%, without the use of sweeteners, and by between 10% and 30% for fizzy drinks.