Health campaigners say government restrictions on HFSS foods are long overdue. Industry claims the costs outweigh the benefits. So will it help?
A glass and a half in everyone. Once you pop, you can't stop. Grab a slice of the action. From now on, these slogans will become an after-9pm affair. Because under Boris Johnson's obesity strategy, HFSS foods such as Cadbury Dairy Milk, Pringles and Domino's Pizza will only be allowed to advertise after the watershed.
It's part of a raft of measures designed to cut back on Britain's overly enthusiastic consumption of calorific and salty food and drink. Under the clampdown, HFSS foods will no longer be able to run 'buy one get one free' promotions, and displays in prominent locations will also be off the cards.
For health campaigners, it's a "long overdue" move that will have a positive impact on the nation's diet. But for suppliers, it's a costly and nonsensical approach that will penalise even reformulated products.
So will these measures work? Just how likely are they to come into effect? And if so when?
Health campaigners have been pushing for tighter restrictions on HFSS foods for years. So from their perspective, last month's obesity strategy could not have come sooner.
"These are the measures that we and many others across public health have been advocating for many years"
"The restrictions on price and location and the junk food advertising watershed are long overdue, but a welcome step in the right direction, and we hope that it signals tougher action from government," says Duncan Stephenson, deputy CEO of the Royal Society of Public Health.
Crucially, campaigners argue that the measures are rooted in evidence. "These are the measures that we and many others across public health have been advocating for many years, so to finally have the government acknowledge the evidence base and need was very welcome indeed," says Malcolm Clark, policy manager at Cancer Research UK and former co-ordinator of the Children's Food Campaign.
The government strategy referred to a 2018 survey when explaining why it had gone so far on display promotions – rather than just banning HFSS products at checkouts, as the industry had hoped. That survey showed around 43% of all food and drink products located in prominent areas, including store entrances and aisle ends, were sugary in nature.
Minimising temptation
On the pricing promotions front, a review of evidence by NHS Scotland provides further food for thought. The 2017 study found consumer spending on price promotions in the UK was the highest in Europe. The evidence "strongly suggests" that both temporary price reductions and multibuys increase the volume of food or drink purchased during a single shopping trip, and do not reduce subsequent purchases, it found.
Susan Jebb, a professor of diet and population health at the University of Oxford, says there are clear indicators these measures will influence behaviour. "It's a very clever mix that doesn't infringe on anyone's rights and choices, but creates a more level playing field for customers making free choice," she says.
For her, it's all about minimising temptation. "Observational studies tell us that, where products are at the end of the aisle, sales go up substantially. We did one study and there was a 50% increase in sugary drink sales when they were at the end of the aisle," she points out. Research by IRI shows substantial uplifts in sales of condiments, confectionery, cereals and crisps when placed on display, even without any price incentives.
Jebb is similarly positive about the advertising watershed. "Studies have mostly focused on children, and there's a clear link between seeing ads and the amount they consume," she says. "Adults are just as susceptible to advertising. So with this wider limit, more people will get more benefit."
"Restrictions on promoting and advertising everyday food and drink will increase the price of food, reduce consumer choice and threaten jobs"
Action on Sugar also points to the evidence on this front. "Just 1.5 fewer adverts for food and drink high in salt, fat or sugar per day would lead to a child consuming 9.1 calories less each day," says Holly Gabriel, nutritionist at Action on Sugar. "This may not seem a lot but over time this will make a difference, along with other measures."
So far, so positive. But for the industry, these small wins aren't such cause for celebration. Insiders believe a number of stakeholders – from advertisers to broadcasters and retailers – are likely to challenge the measures, in a move that could delay the proposals by years.
One industry heavyweight described the advertising restrictions as "chillingly interventionist" and questions how they would be policed. They also named restrictions on gondola end displays as particularly controversial.
The FDF's scathing statement makes clear the industry view. "As the economy struggles to recover, new restrictions on promoting and advertising everyday food and drink will increase the price of food, reduce consumer choice and threaten jobs across the UK. And all to save 17 calories a day," says FDF chief operating officer Tim Rycroft. "A single smartie."
The FDF makes clear just how drastic the impact could be. Research commissioned by the industry body claimed a blanket ban on aisle-end promotions could cost retailers £500m and suppliers £700m, compared with the far lower government estimates in its widely ridiculed impact assessment. It also points to PHE's own figures, which suggest a promos ban would see families facing £600 higher average food bills per year.
There is also the thorny question of which foods are defined as HFSS. Under the current definition, which is based on the government's nutrient profiling model, there are some surprising inclusions.
Olive oil, for example, is defined as an HFSS food due to its natural fat content. That has provoked ire from Filippo Berio, which brands the definition a "blunt tool" in tackling junk food consumption.
"The reality is that not all fats have the same effect on obesity, so we would like to see the 'F' in HFSS redefined to recognise the difference between good fats and bad fats," says marketing manager Lisa Mullins.
Indeed, olive oil has already been exempted from the TfL clampdown on HFSS advertising, on the basis that it contains 'good fats' (with antioxidants), and does not contribute to obesity in children.
The restrictions on seemingly innocuous products have also provoked a backlash from the British Retail Consortium. "We are not convinced there is sufficient evidence to support restrictions on product placement in store, especially when these include ingredients and meal accompaniments which should be out of scope, such as olive oil and potato salad," says its director of food & sustainability Andrew Opie.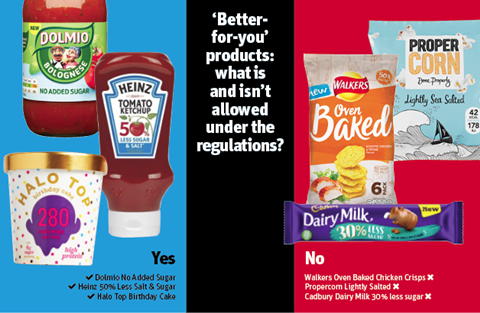 Reformulation
Then there is the issue of the reformulated products that fall foul of the restrictions. Some 'better-for-you' versions of common products do make the grade (see above). At the same time, plenty of products will be subject to the crackdown, such as Walkers Oven Baked crisps, and Cadbury Dairy Milk 30% Less Sugar.
It's undoubtedly a blow for manufacturers that have invested heavily in reformulation. Mondelez, for example, spent three years developing the lower-sugar Cadbury Dairy Milk, trialling 35 recipes in six rounds of consumer testing. It argues that the government should be "rewarding businesses who are innovating and providing consumers with greater choices", rather than including everything in its clampdown.
The FDF fears that, unless the definitions change, manufacturers will lose appetite for reformulation. Head of diet and health Kate Halliwell points out that Public Health England's voluntary targets "strongly encouraged" suppliers to reduce sugar content. Many have therefore engaged in "a very time-consuming and expensive process" that may reap little to no reward.
"One of the ways you bring a product to market is to advertise and, if that mechanism is taken away, it becomes very difficult," Halliwell argues. "You will only develop a product if you can sell it. So I think it makes it much more difficult to persuade the company to invest in innovation."
"One of the ways you bring a product to market is to advertise and, if that mechanism is taken away, it becomes very difficult"
It's a crucial point. Because the battle against obesity isn't just about changing consumer habits – it's also about changing what's available on the shelves. The latter can only happen with buy-in from the industry. If that fails, it could reduce choice.
Clark of Cancer Research UK argues that HFSS reformulation can still be viable. He points out there are other ways of promoting these products, such as "giving it prominent shelf space within the range and heroing it as a default option in other promotions and marketing efforts".
That, he argues, is what happened in the case of the sugar tax. Take CCEP, which has put Coke Zero Sugar front and centre of its efforts. As a result, lower-sugar variants are outselling full-sugar soft drinks.
So for campaigners such as Clark, the crackdown will only encourage positive behaviour – and they see an extension of the soft drinks levy as a next step. The RSPH is thinking along these lines. "The government should also build on the success of fiscal policies that work, such as the soft drinks levy – this should be extended to other drinks, and it should be piloted for HFSS foods too," says Stephenson.
Read more:
It's not necessarily a logical extension. The FDF's Halliwell points out a crucial difference in the case of soft drinks. "The really big difference is it's technically possible. You can make zero-sugar drinks," she says. "Whereas if you look at food, sugar plays a structural role. You can't just take it all out."
A look at the struggles to reduce sugar in chocolate hammers home that point. Still, it isn't a case that is likely to sway those in power. Government food advisor Henry Dimbleby talked about the possibility of a tax on salt or fat in an interview with The Grocer last week. So as he prepares the second part of his review of Britain's food system, even more stringent measures may be in the pipeline.
Indeed, campaigners see the government's obesity strategy as simply a starting point. A recent report from social policy thinktank Demos mooted such drastic measures as putting HFSS food and drink in plain packaging, in the same way as tobacco.
The report also suggested measures to encourage healthier habits, such as reducing the price of staples such as tinned tomatoes, carrots and frozen veg. Such a measure is more likely to chime with the FDF, which wants a programme to "promote healthier lifestyles and better diet choices", rather than one that penalises certain foods.
But in general, the tide is turning away from measures that encourage the public and industry to make healthier choices, and towards ones that make unhealthy choices harder. So the HFSS crackdown is likely to be a sign of things to come.
"We have had an awful lot of carrot over the 20 years, and yet our rates of excess weight continue to climb," says Stephenson of the RSPH. "There is very little evidence that voluntary agreements have made a difference and it is time for more stick."
So it seems the carrot approach is out for now. Unless we're talking actual cut-price carrots, that is.


Emma Weinbren is managing editor at The Grocer. As second-in-command to the editor, Emma is responsible for the day-to-day running of The Grocer in print and leads The Grocer's features desk.

Emma won the PPA New Talent Award for New Section Editor of the Year in 2016. Prior to joining The Grocer in 2016, Emma was deputy and features editor at Chemist+Druggist, a weekly magazine and website for UK pharmacists.

Follow Emma on Twitter: @EmmaWeinbren