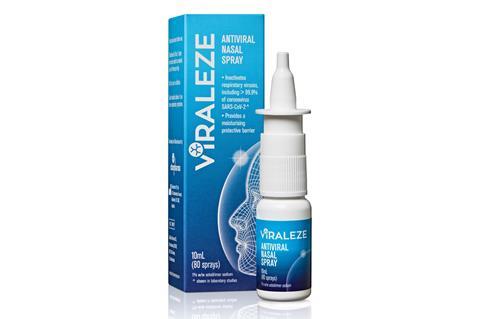 LloydsPharmacy is launching what it claims is the first nasal spray specifically designed to fight Covid-19.
The spray, called Viraleze, is touted as being made from "a specifically designed antiviral active that irreversibly inactivates greater than 99.9% of coronavirus/SARS-CoV-2 within one minute" if used after potential exposure to the virus.
The active ingredient, astodrimer sodium, was "a potent virucidal agent that forms a barrier and irreversibly blocks coronavirus/SARS-CoV-2 'spike' proteins from binding to nasal mucosal cells required for infection", said LloydsPharmacy.
It had "a number of unique advantages, including its virucidal action, its rapid onset and its ability to inactivate viruses either before or after exposure", it claimed.
The brand is recommending it be used once in each nostril up to four times a day. It also said it "provides a moisture layer to help keep nasal tissue hydrated, protecting it from dryness and damage".
As well as coronavirus, it could work against a "broad spectrum" of other viruses such as the flu, SARS and MERS, it said.
"As we ease out of lockdown, taking precautions to help prevent the spread of the coronavirus needs to remain a key focus," said LloydsPharmacy's superintendent pharmacist Victoria Steele, adding the spray "can be used alongside conventional PPE (masks) and in addition to customers receiving their vaccine and does not remove the need for these other protective measures".
Each bottle contains 80 sprays. It launches online this week, ahead of an in-store rollout from 21 April (rsp: £15).