Surely a company wouldn't scrap a product that has just posted a year-on-year increase in volume sales of almost a quarter, would it?

The answer, apparently, is yes. US giant Kimberly-Clark is doing just that next year, when its core Huggies range - which does not include Pull-Ups, DryNites and Little Swimmers - will be pulled from sale in most of Europe. The company claims it has paid the price for becoming too involved in the promotional merry-go-round and that this has prevented it from charging the necessary premium.

"It's actually had quite remarkable growth this year," says Kimberly-Clark category manager Alex Pickering. "But we've failed to command a high enough consumer loyalty across the nappies category for a number of years and our goal for all our brands is to add value by being able to justify a premium."

The discrepancy between the brand's value growth in the past year and its volume growth - almost 10 percentage points higher - certainly suggests promotions have been driving sales. Tellingly, although the brand has offered fewer than half as many deals as top-placed Pampers in the past year, it has given consumers bigger average savings - 28.6% to Pampers' 19.9% [BrandView.co.uk].

Huggies' departure can only be good news for P&G, owner of market leader Pampers, which is set to go from half of a duopoly to having a virtual monopoly in the sub-category and has seen a slight value decline in the past year - as well as a 7% drop in volumes.

Of course, it won't have things all its own way. It still needs to contend with own label, which has grown volume sales a solid 10.3% in the past year, again largely thanks to promotional activity. "Own label is very strong," acknowledges a P&G spokesman, "and we know we will have to continue to be very competitive despite Huggies pulling out."
"Own label is very strong. We know we will have to be competitive despite Huggies pulling out" Spokesman, P&G
Kimberly-Clark has opted out of the battle over nappies, but elsewhere in paper products, it is one of a string of companies engaged in intensive promotional scrapping with own-label rivals and throwing heavyweight NPD and marketing spend at even the most saturated of categories - often successfully.

Take toilet tissues, where brands are winning the fight with own label, sales of which have gone down the pan. Volumes are down 14.5% and values down 5.5%, while brands have posted solid growth in value and volume sales. Kimberly-Clark's Andrex and SCA's Velvet have grown by only a few percentage points, but it's enough to maintain first and second spots respectively.

The other brands in the top five have performed better still, increasing volume sales by double digits - a particularly noteworthy achievement for Nouvelle, which last year was in 14.4% value decline, but has benefited from (among other things) securing additional space in Sainsbury's.

All the major brands have invested heavily in promotions, with the volume sold on deal increasing by 5% year-on-year, according to Nielsen.

"Consumers are price-conscious and managing their basket spend," says Nielsen client manager Alex Waddingham. However, he adds, promotions that offer "a perception of a deal" are still purchase drivers for many shoppers, especially when the depth of cut makes a branded product comparable to an own-label one in price.

He maintains that own label has been relying too much on temporary price reductions, with the brands benefiting from combining promotions with feature and display marketing in store and above-the-line marketing.

That said, the average cut has shrunk as the category strives to strike a balance between consumer demand for value and rising commodity costs. The price of a unit has risen 12p year-on-year, suggesting that brands are coping by raising prices - and trying to justify the hikes with compelling NPD.

"Where brands offer differentiation, even in a tough economic climate, shoppers are willing to pay extra," says Pickering, pointing out that this year the 'luxury' lotioned & quilted market increased its share from 18.6% to 19.2% of the dry toilet tissue category.

Despite the recession, there have been 18 new toilet roll launches this year, including Andrex Eco, Velvet Almond Milk and Velvet Balsam. Pickering claims Andrex Fresh Washlets, launched in January, is the most successful launch he has seen in his 10 years in the category. "It's about constantly refreshing your products to try to stay on top," he adds. "The reason brands are succeeding is a reflection of their innovation."

In kitchen towels, too, brands are coming out on top, posting double-digit value and volume growth, while own label has declined by a similar amount. Market leader Plenty has grown sales much faster than last year and is now, like second-placed Lotus, in strong value and volume growth.

Regina is some way off posing a threat to the top two brands, but its superlative growth on both volume and value fronts - mirroring its achievements in toilet tissue - may give the market leaders pause for thought.

In facial tissues, the mild winter - which has also been causing grief for brands in the parallel cold & flu remedies sector - wasn't what suppliers needed to help them return to growth. That said, although volumes are down slightly, it's an improvement on last year's 4.2% volume decline - and value sales are in growth, albeit only slightly. Own label has managed to turn around last year's 9.8% value slump, although growth of 2% - and a decline of 1.9% in volume sales - is hardly cause for celebration.

One of the most prolific innovators in facial tissues has been Kimberly-Clark. Its Kleenex Balsam and small boxes have helped the Kleenex brand grow value sales by 2.4% , ahead of the wider tissues category.

It's just as well. With the core Huggies range consigned to the nappy bin, the company will need to drive growth in other areas of the paper products category in 2013.
TOP LAUNCH 2012
Thirst Pockets Select-A-Size Georgia-Pacific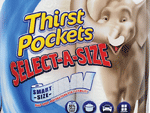 Last year, Plenty decided it was size that mattered in the kitchen towel department and launched a 50%-bigger-than-standard roll. This year, Georgia-Pacific's Thirst Pockets Select-A-Size has gone one step further, with a 50% larger sheet than standard and an extra perforation at half sheet allowing users to tear off only the paper they need. Rolled out in July, the company says it has already sold almost half a million packs - worth a bumper £1m - of the economical, eco-friendly product.