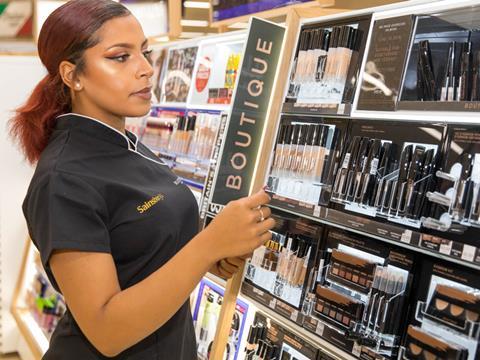 Sainsbury's is refreshing its beauty department with 1,500 new products and dedicated in-store advisers as part of its push into the beauty market.

Sainsbury's will become the first supermarket to stock some of the 500 beauty brands and 1,500 new products coming to its stores, which include Mane & Tail, Burt's Bees, Essie, Korres and Dr PawPaw.

The specifically trained, dedicated beauty experts will be present in eight stores to offer customers help finding the best products for them. They will wear black tunic and trouser uniforms to help them stand out to customers alongside other shop floor employees.

The eight stores will be Fosse Park, Leicester; Newbury; Purley Way, Croydon; Leicester North; Locksbottom, Orpington; Oldbury and Bolton. The branches will also see their beauty departments refurbished, meaning larger department store layouts with new fixtures, fittings, lighting, flooring and point of sale material.
More widely, 281 branches will stock Sainsbury's Boutique cosmetics range, introduced on 23 September. The 100-product assortment has been developed with every beauty product providing a key skincare benefit at "fantastic value" for shoppers. The range is predominantly vegan and includes on-trend products such as long-lasting eyebrow tattoos and contour sticks. Prices start from £2.

Sainsbury's said it was looking to take on the likes of Boots and Superdrug and become a destination for beauty. If successful, the new concept would be rolled out to more supermarkets in 2019, it added.

Sainsbury's also opened a concession from the Fragrance shop at its Purley Way, Croydon store on 27 September, and will do the same in its new Sainsbury's branch in Selly Oak, Birmingham when it opens later this year. Four Sainsbury's branches - Newbury; Locksbottom; Warren Heath, Ipswich and Godalming - will stock an extended range of luxury and specialist skincare brands at their Lloyds Pharmacy counters.

The changes come as the UK's health & beauty market is set to reach £27bn by 2020, and annual spend per customer to £487, according to Global Data.

"We think customers will love our beauty makeover, which creates an alluring space where customers are inspired to browse the new ranges and try before they buy," said Sainsbury's commercial director Paul Mills-Hicks. "Shopping for beauty and cosmetics is a very personal experience and we've transformed the look and feel of our beauty aisles to enhance the environment for our customers. We've also invested in specially trained colleagues who will be on hand to offer advice and share their love of the amazing new lineup of exclusive and distinctive brands, including our re-launched Boutique beauty range, which offers customers top-quality cosmetics at fantastic everyday value."