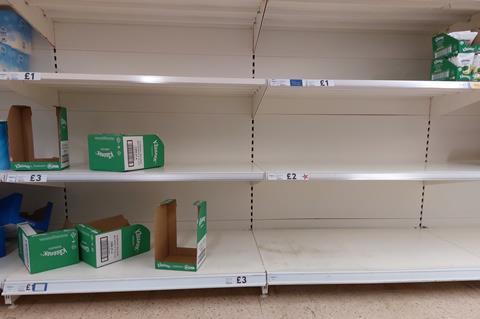 Supermarkets are struggling to get hold of tissues amid the Omicron surge, supply chain disruptions and the return of winter colds.
Over recent days, consumers have taken to social media to complain about the scarcity of tissues in the mults. Data confirms that several Kleenex and own-label SKUs have been out of stock in Sainsbury's since before Christmas.
What I wanted was on the opposite side of the aisle. Luckily I didn't need tissues. Is it a @sainsburys or @Kleenex_UK problem? #SupplyChain #BrexitReality pic.twitter.com/NBzbUZpJ3E

— Andrea Cook 💙 (@F3Lollipops) January 8, 2022
Kleenex Ultra Soft Extra Large Tissues Compact Box x2 and Balsam Extra Large Tissues Compact Box x2, alongside Sainsbury's Super Soft Facial Tissues x2, for example, have been out of stock since 22 December 2021 [Assosia 4 w/e 12 January 2022].
At the time of writing, both Sainsbury's and Waitrose had flagged the issue with availability notices on their websites.
A spokeswoman for Waitrose told The Grocer: "We expect this issue to be resolved soon and apologise for the inconvenience this causes."
The Grocer has approached Sainsbury's, Tesco, Morrisons and Asda for comment.
Matt Stone, marketing director at Kimberly-Clark, which owns the category's biggest brand, Kleenex, confirmed to The Grocer that supermarkets had been experiencing "some availability challenges recently in the facial tissue category, including our Kleenex tissues".
"This has been mainly driven by ongoing Covid, transportation and other supply chain disruptions, including a global shortage of cardboard.
"All of these short-term impacts affected operations at a period when category demand is at its highest, leading to some availability challenges."
The tissue industry was also "struggling with high input costs such as energy, natural gas, pulp, chemical products, and logistics", Mintec analyst Zanna Aleksahhina told The Grocer.
The wood-free paper market had "faced a drop of more than 25% in deliveries in the UK in 2021 compared with two years ago", she said.