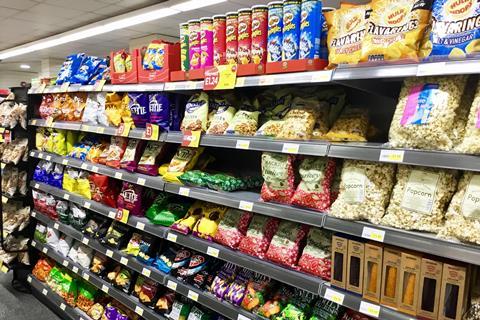 Food and drink is one of the UK's biggest industries, with a turnover of more than £104bn in 2019. Many big-name food companies operating in the UK also have global markets: 10 companies control almost every food and drink brand worldwide.
It is this highly globalised and profit-centred food industry that has driven our increased consumption of processed food products, which tend to be higher in fat, salt and sugar (HFSS). These products can be produced for less and, due to clever marketing techniques, sold for more.
The government estimates UK children are exposed to around 15 billion adverts for HFSS products each year [DCMS & DHSC 2020]. Much evidence shows advertising works to influence short-term food choices. Seeing just one minute of HFSS food advertising leads children to eat an additional 14.2 calories. Over time, this gradual increase in calorie intake leads to weight gain, which can then lead to obesity. Currently, one in four year 6 children are living with obesity in England.
In 2018, the government proposed tougher restrictions on the advertising of HFSS products by building on existing rules which, earlier this week, the Advertising Standards Agency (ASA) defended as 'strict'. I beg to differ. The existing rules apply only to advertising to children or where more than 25% of the audience is under 16 years old. This is difficult to enforce online. For example, in April 2020, Kellogg's irresponsible advertising of Pringles snack products on Joe Wicks' YouTube channel 'PE with Joe' was flagged to the ASA, which was 'informally resolved'. However, by that time the ad had been seen by thousands of children.
The government went on to push for tougher restrictions under the HFSS clampdown, with unanimous support from a wide cross-section of MPs and Lords. But last Saturday (15 May), government dealt yet another blow to not only child health but also the many health experts and civil servants who have worked tirelessly developing this new policy.
Ministers defended delaying implementation for at least a year as "recognition that the industry needs more time to prepare". Sure – the industry has only had four years to get on top of this, and most companies have healthier food in their portfolio they could advertise instead.
Threats from food industry trade bodies have done quite an effective job in promoting the interests of their largest and most aggressive members. Thanks to William Hague, we know there was another driver for this delay: a handful of Boris Johnson's own MPs. Writing in The Times earlier this week about the "morally reprehensible" delay, Hague revealed a group of MPs threatened the PM with letters of no confidence if the government went ahead with the policy.
Of course, this isn't the first time the PM has made a u-turn on a promise. And I hope it won't be the last – a 'u-u-turn' if you will. Because if the government is to have any chance of reaching its target of halving childhood obesity by 2030, and levelling up gaping inequalities across the country, it must put in place policies that create a healthier food system. What with their billions in profits and creative advertising teams, food companies are well up to the task.