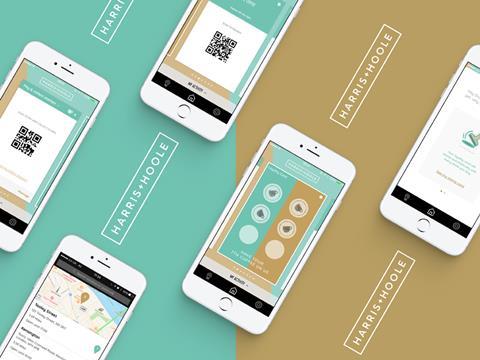 Premium coffee chain Harris+Hoole has unveiled a new loyalty and payment app mimicking that of its owner Caffè Nero.

The app, which went live last week, takes payment from customers and adds a stamp to their digital loyalty card in one swipe.

Harris+Hoole marked the launch by giving users a free coffee voucher with their first app purchase and staging in-store marketing.

Using the app, baristas can process the entire customer transaction in three seconds, rather than taking 19 seconds to process contactless payment and add a stamp to a paper loyalty card.

Harris+Hoole's previous app also had payment and loyalty functionality, but the new app's creator Yoyo said it had removed "around four steps from the process" by processing everything in one swipe.

YoYo systems unveiled a similar app for Caffè Nero in April.

Since its launch, the app has attracted 150,000 users and Yoyo said it was on track to deal with 10% of all Caffè Nero transactions by the end of the year.

Caffè Nero also uses the app to stage bespoke promotions, such as awarding double stamps on every iced drink purchased at the end of May.

Between 27 May and 4 June, baskets that contained an iced drink increased by 148% among users who engaged with the campaign compared with the week before.

Alain Falys, co-founder and CEO of Yoyo, said the app had the added benefit of providing retailers with customer data.

"If you buy a double-shot latte with sparkling water and a croissant every day, the app will collect that information and feed it back to the retailer," he told The Grocer. "So for the retailer, the value is you know your customer profile, behaviour and preferences."

Caffè Nero bought Harris+Hoole from Tesco last year for an undisclosed sum.