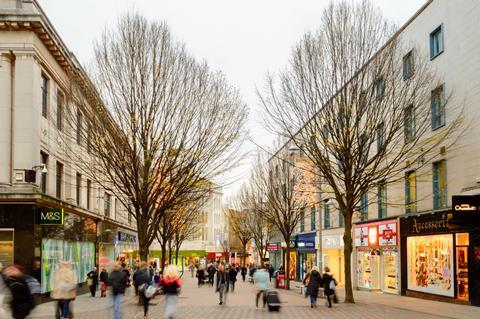 Industry chiefs have reacted to an announcement from prime minister Boris Johnson that all shops in England can reopen from 2 December under eased lockdown measures.
BRC CEO Helen Dickinson said the move would preserve the economy, and offered reassurance to consumers that shops offered a Covid-safe environment.
Addressing the commons remotely today, Johnson said shops, gyms and hairdressers could reopen in all parts of the country, while hospitality would be subject to the reintroduction of a tier system.
In tier three regions, indoor entertainment, hotels and other accommodation will have to remain closed, along with all forms of hospitality, except for delivery and takeaways, Johnson said.
In tier two, alcohol can only be served in hospitality settings "as part of a substantial meal". Which areas fall into which tiers is to be announced on Thursday, and reviewed fortnightly.
The 10pm blanket hospitality curfew will be amended to allow last orders at 10pm and a closing time of 11pm.
People will also be able to meet each other outdoors subject to the rule of six. However, even in tier one, people should continue to work from home wherever possible, the PM said.
"Retailers will be relieved by the government's confirmation that all shops can reopen once the current restrictions are lifted," said Dickinson.
"Sage data has always highlighted that retail is a safe environment, and firms have spent hundreds of millions on safety measures including Perspex screens, additional cleaning and social distancing, and will continue to follow all safety guidance. As a result, customers can be reassured that retail premises are Covid-secure and safe to visit over the festive period.
"Shops – from high streets to retail parks – play an integral role in the run-up to Christmas. While retailers have stepped up their online delivery over the course of 2020, the bulk of Christmas shopping tends to be done in store. The government's decision to keep all of retail open will help to preserve jobs and the economy and help keep Christmas a festive occasion for everyone."
Wine and Spirit Trade Association CEO Miles Beale welcomed the partial reopening of hospitality but warned the tier system could be the "final nail in the coffin" for some businesses.
"It will come as a relief to some of the hospitality sector – and their suppliers – that we'll see a partial opening up of business in the run up to Christmas. However, with tougher tier restrictions likely to be in place it will still mean many pubs bars and restaurants will remain closed.
"It's sensible that those allowed to open will have curfews extended. For those businesses who will be forced to stay closed after investing their dwindling resources to ensure they can trade safely, this could sadly be the final nail in the coffin. Tiers two and three will both be more restrictive and reduce business' chances of survival. It's that stark. The government needs to continue the financial support for hospitality as well as its suppliers – at least the same level - until the pandemic is over."
Johnson also announced weekly coronavirus tests would be made available for workers in food manufacturing, a move welcomed by FDF CEO Ian Wright.
Wright said: "The food and drink industry's half a million employees will welcome the prime minister's announcement on weekly testing. This is an important step to secure continuity of production in this essential industry during these tricky winter months. We still harbour deep concern at the potentially desperate future for hospitality. There is real danger that continued restrictions will result in two thirds of pubs, clubs and restaurants – customers to food manufacturers – closing before the vaccine arrives. We must see further financial support for this vital sector."
Paddy Lillis, general secretary of shopworkers union Usdaw, said: "The reopening of non-essential stores ahead of Christmas offers a lifeline for many retailers, who would have struggled if they could not trade in December, traditionally the busiest month of the year. That is good news in terms of helping to safeguard jobs, but the virus is still out there, so we expect employers to maintain necessary safety measures and call on customers to follow the rules and respect staff."