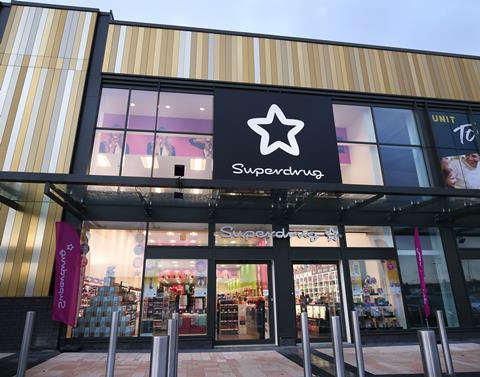 Superdrug is bracing for the spike in violence and aggression towards staff seen during the pandemic to worsen in the run-up to Christmas.
The high street pharmacy has recorded a 21% year-on-year increase in aggressive behaviour in 2020, which had "only risen throughout the year", often stemming from negative reactions to social distancing, it said today.
Data from previous years showed incidents were highest from October to December, and so the retailer expected the worst was yet to come. "It is predicted these figures will only be set to increase this year, with an even bigger spike in incidents over the Christmas," said a spokesman.
Superdrug has identified 'hotspots' where it is considering introducing body cams to help keep staff safe.
A staff member named as Kate from Bristol said: "We have had several incidents this year which include being threatened to be stabbed and multiple verbal racial and homophobic abuse incidents towards my team. We even had a brick thrown through our shop window at the team and my assistant store manager was punched in the chest by a disgruntled customer."
Superdrug is extending a campaign launched in the summer encouraging customers to 'Be Kind, Shop Kind' with in-store signage and radio. The business is now urging people to 'Shop Kind at Christmas', while pledging to protect staff through a "zero-tolerance stance for any aggression shown towards them".
The Christmas campaign message is to feature on point of sale, in-store radio, and on colleagues' uniforms.
Another staff member, named Lara, from Kirkgate said: "I think 'Be Kind, Shop Kind' is a great initiative. It makes me feel like someone out there is looking out for me and the daily challenges we face in retail. If it just makes one person stop and think about how they approach their shopping trip, then it's all worthwhile."
Superdrug sales and operations director Jerry Walkling said: "The festive period can be a stressful time for many, however we encourage all of our customers to Be Kind and Shop Kind this Christmas.
"As an essential retailer, our store teams are on hand to ensure health and beauty essentials are available and accessible to our customers, and their safety and protection continues to be our priority."
These locations have been identified by Superdrug as hotspots:
Bristol Broadmead
Edinburgh Princes St
Harlesden
Kingston
Headingley
Cardiff Queens West
Manchester Piccadily Gardens
Basingstoke
Islington
Birmingham Kings Heath