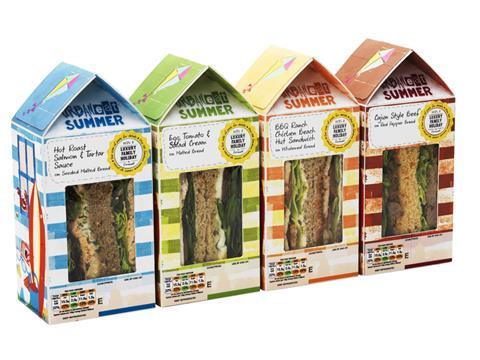 Food-to-go supplier Adelie Foods is axing more than 180 jobs as it continues the attempt to turn around the business.
The sandwich maker is proposing to transfer production from its facility in Middlesbrough to other factories within the group, as well as relocating its Midlands distribution centre from Leicester to Tamworth.
The move followed 12 months of operational improvements that created more capacity across its sites in Scotland and London, the business said in a statement.
The business has entered into a consultation period with 180 employees in Middlesbrough and will be talking with them and their representatives over the coming weeks. It is also in talks with a further 42 staff in Leicester about transferring to the Tamworth hub 23 miles away.
Adelie changed hands last September as private equity firm HIG Capital sold the group to Intermediate Capital Group (ICG) after a difficult 18 months of ownership, which saw a management shake-up and losses of major sandwich contracts with Sainsbury's and WH Smith to rival supplier Greencore.
"Over the past 12 months we have grown with existing and new customers and we have invested heavily in our infrastructure, expanding our capability to new products and formats, as well as making our factories and distribution network significantly more efficient," CEO Martin Johnson said.
"This investment has freed up capacity at our major Kilmarnock, Wembley and Southall sites.
"Having completed this work, we are commencing a process to cease all production at our Middlesbrough plant and transfer this to other sites within the group. We will work closely with our people at both Middlesbrough and Leicester to help to reduce the impact of today's announcement where possible.
"All of these moves are part of our operational strategy to ensure that we have the right capability in the right parts of the UK to deliver the service and great quality to our customers in the best possible way."
Adelie will now enter a consultation period with employees at Middlesbrough and Leicester.
The latest move comes a little over a year after Adelie announced it would close its factory in Tamworth in the Midlands, with 340 redundancies. Adelie now plans to turn the Tamworth site into a new distribution hub, with staff in Leicester offered a transfer.
The group's business in Enniskillen, which acquired The Bite Group out of administration in October 2015, also filed for insolvency in August last year, with a further 75 redundancies.
Accounts for Adelie parent company Harvest Holdco Ltd for the year to 31 March 2016 – filed in February this year at Companies House – showed an 11% increase in sales to £327.6m. However, the results do not include the impact of the loss of the Sainsbury's contract.
The group also recorded an operating loss of £14.7m in 2015/16, compared with a profit of £5.9m the previous year, because of higher costs and exceptional charges related to the takeover by HIG in March 2015.
Adelie has since implemented a turnaround plan under new CEO Martin Johnson and CFO Mark Stott, appointed in early 2016.
The business makes about four million fresh sandwiches and 250,000 salad packs under the Urban Eat brand, as well as own label, at its UK production sites each week.