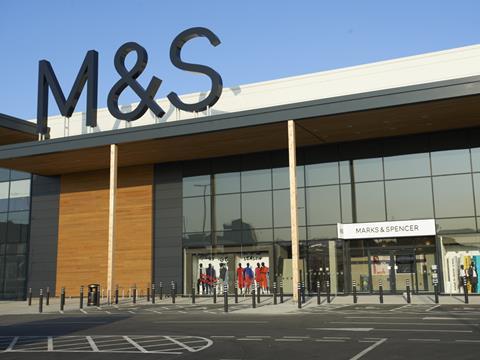 M&S is to cut 351 in-store managerial roles following a review of its management structure.

The retailer is consulting with staff regarding the redundancy proposals, affecting 182 section managers, 115 operations managers and 54 visual managers. M&S said its review found it had "inconsistent colleague structures," and that job cuts will help "right size" in-store employee numbers.

The move comes as part of M&S's five-year transformation programme, announced around 18 months ago, to reduce the amount of shop floor space devoted to clothing and make it more efficient and commercial. This has already brought plans for more than 100 store closures by 2022, and closure of its Hardwick, Warrington and Neasden distribution centres, due to be replaced by a new DC in Welham Green, Hertfordshire. There has also been a restructure of the M&S Bank branch management team, threatening dozens of jobs.
Consultation documents seen by the Guardian revealed that sales activity at M&S dropped 7.5% over the past two years as management costs increased. An M&S spokeswoman said it would not discuss the detail of the consultation.

The redundancies follow a warning from the retailer's chairman Archie Norman that it is "on a burning platform" unless extensive improvements are made. At M&S's AGM last week, Norman said that "unless we change and develop this company the way we want to, in decades to come there will be no M&S. We have said it's going to be 100 stores closing but I can't tell you that it's going to end there. We have got to get to the point where we have a modern estate and we have to go through the pain barrier to get there."

An M&S spokeswoman said: "M&S is transforming and this is a tough but necessary decision to take to ensure our stores support the future of the business and provide the best service for our customers."

In May its pre-tax profits plunged 62.1% to £66.8m for the year, with performance hit by tightening food margins and the cost of store closures.