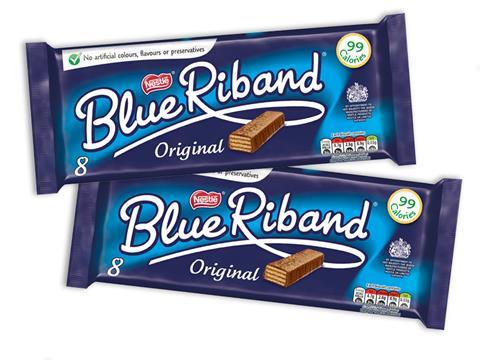 Nearly 300 Nestlé employees face redundancy following an operational shakeup across four of the confectionery giant's UK sites, which will also see production of Blue Riband wafer bars move to Poland.
The company said it would make "some changes to the factory operations" in its confectionery businesses at York, the Newcastle borough of Fawdon, Halifax and Girvan in Carrick. This would result in 298 roles being lost through 2017 and 2018, predominantly at the York and Fawdon premises, and most likely through voluntary redundancies.
Plans included "amended and standardised" shift patterns at each factory, while activity at Fawdon, the "most complex" of Nestlé's UK confectionery sites, would be simplified with the shift of Blue Riband production to a site in Poland.
"These proposals are being made… to ensure that these sites operate more efficiently and remain competitive in a rapidly changing external environment," Nestlé said.
It added a 45-day consultation of the plans with trade unions and employee representatives would commence "as soon as possible", pledging to "work hard to ensure all are supported through this difficult period".
'Export chocolate, not workers'
Nestlé's proposals were slammed by the Unite and GMB unions, who said the decision to move production of Blue Riband to Poland was farcical.
"Blue Riband has been made in Britain since 1936 and is primarily consumed by the UK market - meaning it will have to be exported back into this country if production moves to Eastern Europe," the unions said in a statement.
They also warned the job losses could be "the tip of the Brexit iceberg as companies use leaving the EU as an excuse to slash jobs and trample on workers' rights".
GMB General Secretary Tim Roache added: "To shift the production of an iconic British brand like Blue Riband to Poland is completely unacceptable. Nestlé are throwing people's lives, and those of their families, into turmoil for the sake of increasing profit margins. These factories should be exporting chocolate – not people's jobs."
Unite national officer Julia Long said the union would press Nestlé "to think again about these plans which will see the loss of hundreds jobs and the production of an iconic biscuit shipped to Poland. Rather than turning its back on its UK workforce, Nestlé should be investing in its UK operations and keeping production here at plants in the UK."
MP for York Central Rachael Maskell expressed her disappointment on Twitter at almost half the anticipated job losses being in York. She wrote:
It is a sombre moment to learn that Nestle will axe 143 jobs in #York . I will do everything I can to avert these cuts.

— Rachael Maskell MP (@RachaelMaskell) April 25, 2017
Newcastle North's MP, Catherine McKinnell, also took to the social media platform to express her indignation at 110 under-threat positions in the North-East:
Terrible news for Fawdon & I've written to Business Sec asking him to intervene to keep these good jobs in Newcastle https://t.co/Lr4mc9niam

— Catherine McKinnell (@CatMcKinnell) April 25, 2017
Blue Riband has been made in the UK since its launch 81 years ago by Gray Dunn of Scotland.
The planned move of production "reflects a building momentum of packaged food companies", said food & drink solicitor Mark Jones of Gordons law firm, Leeds. "Mondelez is already producing some of its chocolate products in Poland, including Dairy Milk bars, and the failed takeover of Unilever by Kraft-Heinz reflects packaged foods businesses' acknowledgment that costs need to be reduced if they are to preserve profitability in the coming years."
"Nestle and Mondelez's moves are a sign of things to come. Expect more businesses to follow suit," he added.