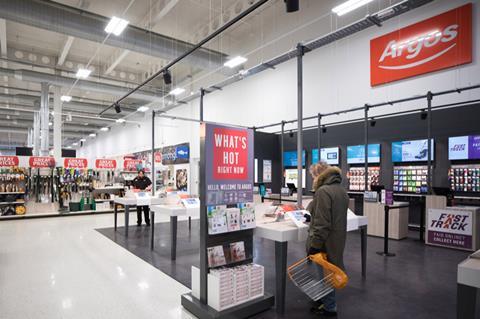 Sainsbury's is slashing hundreds of management jobs as it continues to shake up the business following the failed merger with Asda.
CEO Mike Coupe, who separately announced his retirement from the top job at the supermarket this morning, sent a letter to Sainsbury's staff yesterday updating them on the ongoing structural reorganisation.
In the update on plans to bring Sainsbury's and Argos closer together, Coupe said the senior leadership team had been reduced by more than 20% since the start of the financial year in March 2019.
He added that bringing together more teams in commercial, retail, finance, digital, technology and HR would lead to a reduction of hundreds of management roles across the business.
The restructure, which also includes merging store support centre teams, closing Sainsbury's and Argos stores, improving efficiency and buying products better, is designed to reduce costs by £500m by 2024.
However, in the short term the move has caused profitability to tank, with pre-tax profits falling from £107m to just £9m in its first half as a result of a £203m charge for closing sites.
The latest news of the restructuring came ahead of Coupe announcing his retirement from Sainsbury's this morning (22 January) after almost six years in charge. Coupe will step down in May, with current retail and operations director Simon Roberts to take over.
Coupe said in a letter to staff – sent yesterday before his plan to retire was known – that he was confident the management reorganisation would move the business forward and deliver "a joined-up customer experience" across the brands.
"I firmly believe that with our trusted brands, great quality products in over 2,000 locations, leading digital and delivery capabilities and outstanding colleagues, we are uniquely placed to deliver a seamless shopping experience and to help our customers live well for less," he told colleagues.
"But we have to adapt to continue to meet the needs of our customers now and in the future and, while change can be hard, it's also necessary. We have a clear purpose and a strong and compelling set of priorities that will support us to deliver for our customers.
"We already have a sense of momentum across the business and can accelerate this by streamlining our structure and responding to customer needs more quickly. Truly integrating our business also unlocks efficiencies that we can reinvest in the things that matter most to our customers.
"I'm confident that the changes we've announced today will move us forward and deliver a joined-up customer experience across our brands. Thank you for your continued dedication to doing a great job for our customers as we continue with our integration."