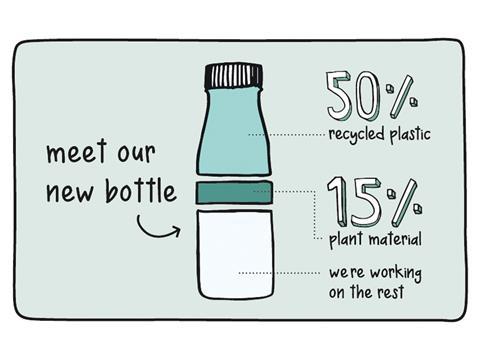 Innocent is to roll out a more sustainable bottle as part of its aim to have 100% non-virgin plastic packaging by 2022.
The new, fully recyclable bottle is 50% recycled PET and 15% plant-based plastic made from a sugar cane by-product. The result of two years' development, it will initially be used from this month for Innocent's smoothies.
The brand wasn't the first to use bio-plastic, it said, "but we believe we're the first to make a bottle that combines recycled plastic with plant plastic to make a fully recyclable bottle".
The launch comes 12 years after Innocent unveiled a compostable bottle made from polylactic acid (PLA). It was axed a year later due to shoppers' lack of understanding about compostable packs, said Louise Stevens, head of circular economy at Innocent.
The brand then poured its drinks into a 100% rPET bottle in 2007 but cut back to 35% four years later after finding the quality of available recycled plastic had diminished.
Recycled PET had "come a long way since then" Stevens said. "But, ultimately, we still need a small amount of virgin plastic in the mix."
Innocent's bottles have been 50% rPET since 2013. The brand wants them to be fully sustainable by 2022, rejecting virgin oil-based plastic in favour of rPET, bio-plastic or a mix of both. This week's new pack was a "stepping stone until innovation can catch up" said Stevens.
Innocent is a founding partner of The UK Plastics Pact, the Wrap-led initiative launched this week to tackle plastic pollution.