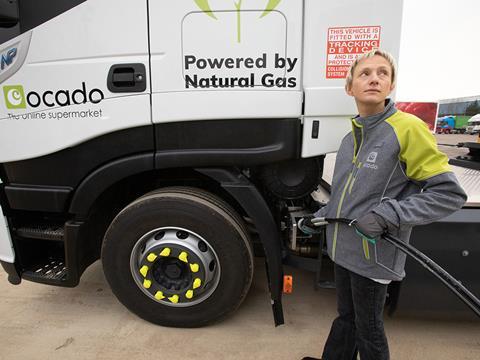 Ocado has opened its own self-funded natural gas refuelling station for its HGV fleet in a move claimed to be a first for UK retailers.

The station at Ocado's Hatfield fulfilment centre will service 29 biomethane HGVs, producing a claimed 99% fewer particulate emissions, 70% less nitrogen oxide and 50% less noise than diesels.

The lorries make up 20% of Ocado's HGV fleet and stand to reduce the fleet's CO2 emissions by 29%, Ocado said.

The online supermarket plans to build on a £3m investment in alternative fuels so far by adding another 11 gas HGVs to the fleet this year.

"By investing in gas-powered vehicles, and in our first on-site refuelling station, we're future-proofing our fleet and our business," said Graham Thomas, Ocado's fleet services manager. "Emissions from compressed natural gas are cleaner than Euro VI standards which start to take effect with the London low emissions zone next April, and will soon be followed by a further 32 clean air zones."

Ocado agreed the acquisition of the 29 Iveco trucks in July last year, with the first four going into service immediately and the rest joining the fleet with the opening of the new fuelling station.

The station was built by natural gas supplier Gasrec, which has agreed a 10-year support and maintenance contract.

Waitrose has 58 gas lorries and last year added zero-emission refrigeration units to six of its trucks.