Wrap forges new industry/NGO alliance to slash use of plastics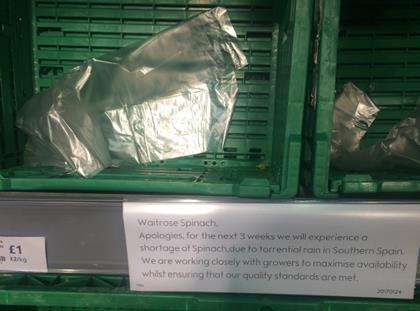 Leading retailers and suppliers are in talks with Wrap ahead of launching a major new commitment to remove plastic from supermarket shelves.

The Grocer understands pledges will be unveiled from launch partners among supermarkets and big fmcg suppliers in April, under a commitment provisionally known as the Circular Plastics Commitment (CPC).

The new commitment will effectively act as the plastics equivalent of the Courtauld Commitment targeted at food waste and will be aimed at hitting PM Theresa May's pledge to eliminate "unnecessary and problematic" single-use plastic and significantly increase plastic recycling rates in the next 25 years.

However, unlike Courtauld 2025, the new initiative will involve a raft of NGOs, including the Ellen MacArthur Foundation, multiple government bodies and waste organisations.

The CPC will cover all plastic packaging in the UK, including packaging for food & drink, toys, as fast food items. It will involve retailers, suppliers, foodservice businesses and packaging suppliers, local and city authorities, as well as organisations from the waste management and recycling sector.

A leading source close to the talks told The Grocer: "Wrap is already in talks with major retailers and brands about this new agreement. It won't be quite like Courtauld but it will be about the industry committing to systematic change as part of a powerful platform of cooperation."

Wrap has been tasked with "turning the tide" against plastic pollution with the goal of making all plastic packaging on shelves reusable, recyclable or compostable, significantly increasing recycling.

However, there are fears the initiative could be hampered by savage funding cuts to Wrap itself, which this week saw the body announce plans to lay off around 15% of its staff in a major restructure.

Wrap announced plans for "fundamental changes" such as scaling down elements of its work on areas such as food waste and CO2. Wrap is to axe around 25 of its staff and said "successive cuts in government funding" had been to blame.

Wrap's funding has fallen by over £6m a year since 2015 to £9m-£10m, having been cut by

£10m in the 2015 Spending review, which included £3.6m of cuts specifically earmarked from food waste projects.

"We are in an environment where there is continued pressure on public spending, as well as ongoing economic uncertainty, and Wrap is not immune to that," said CEO Marcus Gover.

"We have been able to achieve great results by combining our resources with others to achieve impact with less funding," added Gover. "That approach will continue. But we have now reached a point where we also need to make significant costs savings." Wrap's talks with retailers and suppliers emerged after frozen food specialist Iceland this week vowed to become the world's first major retailer to eliminate plastic packaging from all its own label products, within five years.