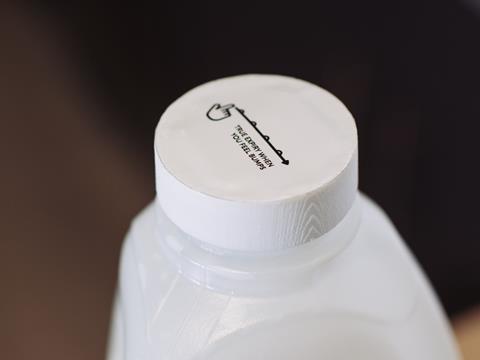 Arla products in the UK could soon carry an innovative new use-by label that turns 'bumpy' to tell consumers when their food has gone off.
The dairy co-op has teamed up with foodtech startup Mimica to trial Mimica Touch – a label that contains a gelatine-based gel that has been formulated to deteriorate at exactly the same rate as the food products it's used on. When the product has reached the end of its shelf life the gelatine develops bumps, making it easy for consumers to see and feel if food is no longer safe to eat.
Mimica and Arla have been testing the label on dairy products and are now gearing up to run consumer tests in the UK. The outcome of those tests will then determine if there will be a commercial rollout.
"Our first step is to test consumer feedback on the product, but we are excited by the possibility Mimica labels might bring in reducing food waste by giving a far more accurate indication of product expiration than date labels," said a spokeswoman for Arla.
If a rollout with Arla goes ahead, it would mark Mimica Touch's first commercial launch.
Dairy products are legally required to carry use-by information and products with Mimica Touch would still have to carry those. However, Mimica founder Solveiga Pakstaite, who was recognised as a Grocer Top New Talent in 2015, said the label would give suppliers the confidence to calculate expiry dates based on a best-case scenario and therefore offer longer shelf lives. Research by food waste charity Wrap in 2015 suggested dairy products could get an additional three days' shelf life if so-called 'buffer time' was taken into account during shelf life calculations.
Pakstaite added she had been impressed with Arla's willingness to work with a young startup. "They were able to get moving a lot quicker than companies in other sectors," she said. Further trials of Mimica Touch with a cooked ham supplier were on the cards for later this year, she added.
Arla is working with Mimica through the Accelerace programme, which helps startups partner with corporate partners in order to accelerate R&D and find routes to market. "With Arla being at the forefront of product innovation in dairy, the programme is a natural fit for our business and we are currently working with three partners through the programme," the Arla spokeswoman said.