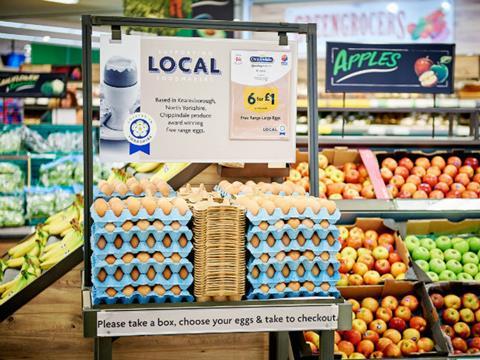 Morrisons has rolled out choose-your-own egg stands in 200 of its stores in a bid to reduce food waste.

The egg stands were erected in produce aisles last week, as part of a move to introduce a farm shop feel to modern grocery shopping.

The stands allow consumers to select between one and thirty free range eggs at a time, aiming to cater for smaller households (rsp: 22p for one, £1 for six or £5 for 30).

Morrisons said the option could help reduce food waste after Wrap found eggs and dairy made up 9% of food waste in the home in 2015.
The free range hen eggs will be marketed as local and sourced from farms across the country. Morrisons said the stands would also reassure shoppers their eggs would not be cracked or smaller than expected.

Shoppers would be able to choose from trays holding up to 30 eggs or recycled cartons holding up to six, said Morrisons, while it would encourage consumers to reuse the boxes provided on return visits - replicating a similar initiative to encourage shoppers to bring their own containers for fresh meat earlier this year.

"Some customers told us they wanted to select their own eggs to ensure none were cracked and to buy the exact amount they needed," said Morrisons egg buyer Robert Hofman.

"In trials customers have told us that they love selecting their own eggs, have found it has cut down on waste in their homes, and love buying produce from their local area."