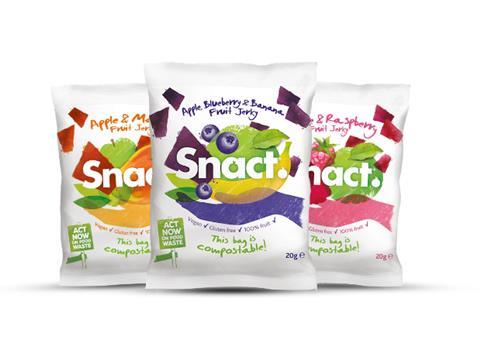 Snact, a social enterprise brand that makes snacks from surplus product, has teamed up with sustainable packaging developer TIPA to promote sustainability and tackle food waste.
Made in the UK using 100% fruit, Snact's range of fruit jerky is rolling out in fully compostable packaging that decomposes within 180 days and offers the same end-of-life organic waste properties as the food it wraps.
Snact had struggled to find environmentally friendly packaging with functional properties while being food-safe, according to the brand's co-founder Ilana Taub,
"As an environmentally-conscious brand, our customers wanted to see us leave plastic packaging behind, and now we have the perfect solution to do this and build on our own eco credentials," she said, adding that the new snack bags had required minor changes to production and design.
"They now feature a statement to show we're proud of the move to a fully compostable pack design."