Tesco's missed food waste targets: an honourable failure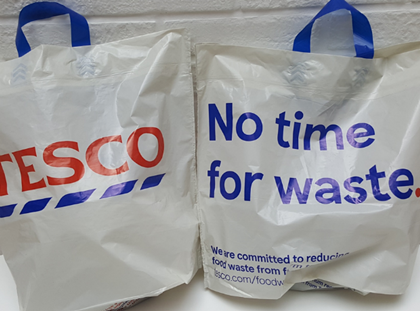 It is pretty safe to say that if things had gone to plan, Tesco would have been shouting from the rooftops today about a milestone being reached in the battle against food waste.
Two years ago the UK's biggest retailer set a target of eliminating all food waste from its UK stores and distribution centres by the end of 2017/18.
Today's report, independently vetted by accountants KPMG, shows it has fallen well short, only achieving 64% of that aim, with its absolute food waste figure actually rising – by more than 6,000 tonnes.
NGOs have already expressed their disappointment and doubtless there will be many critics out there who will revel in Tesco's failure. There were, after all, senior figures at rival supermarkets and suppliers who privately attacked its decision to start coming clean about its food waste figures as a dangerous precedent for the industry.
But while journalists are often accused of latching on to the negative, in this case surely Tesco's failure, if you could call it that, is at the very least an honourable one. Indeed, the fact it has had the courage to set this target and has transparently reported its figures, even when they have gone up, is exactly the sort of openness that food waste charities and food distribution groups have been calling for, for years.
It's also important to note one of the reasons Tesco's food waste has gone up – or remained stable, once its growth in food sales is taken into account – was its decision to begin taking as much of the crop as possible from growers, to reduce food simply being ploughed back beneath the dirt. An unintended consequence of that has been an increase in unsold fruit and veg in stores.
But nobody suggested this battle would be easy. And with such a complicated set of supply and demand issues to deal with, it's too simplistic to simply blame the supermarket model, as some have done, for being inherently inefficient.
Tesco has redistributed nearly 8,000 tonnes of food, the equivalent of 19 million meals, to almost 7,000 charities from its stores and DCs in the past year. If only all retailers and suppliers had its ambition in the first place.
Last year Tesco also made a major breakthrough in getting a raft of its key suppliers to agree to start reporting their food waste figures. No doubt they will be looking to see what the reaction is to Tesco missing its own target.
In November, The Grocer revealed that at the IGD the major retailers had all agreed on a system of reporting that will be used to release retailer-specific food waste figures, a key aim of our Waste Not Want Not campaign.
We are still waiting, however, for Tesco's rival supermarkets to take the next step and begin actually publishing, either as one group, or individually.
There are two options. Shy away from the possible public backlash and delay this vital step in being able to measure food waste, or be transparent and open on the issue so the industry more widely can carry on coming together to hit these targets in the future.