This article is part of our 2016 Hot Beverages digital feature
Tea is often thought of as Britain's national drink. But how we enjoy it varies from person to person – from no milk, three sugars, to a traditional builders' tea. We've quizzed 2,033 Brits, with the help of Harris Interactive, to find out how the great British cuppa varies across this isle. Find out below…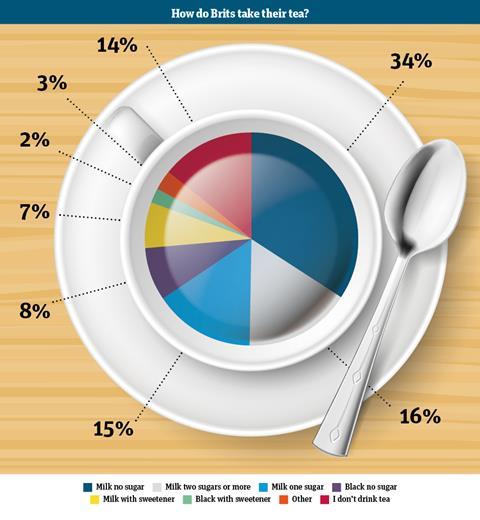 Milk no sugar, please – that's the most popular way to enjoy a brew followed by milk with two or more sugars and then milk with one sugar. Perhaps surprisingly, is that 14% of Brits don't indulge in this quintessentially English tradition.
A closer look at the figures shows men are much more likely to put a spoonful (or more) of the sweet stuff in their tea. Men are nearly 50% more likely to have two sugars and 40% more likely to have one sugar, compared with women.
Older generations appear to be more health-conscious when it comes to a cuppa – nearly half of those aged 55 and over take milk no sugar compared with 15% of 16 to 24-year-olds.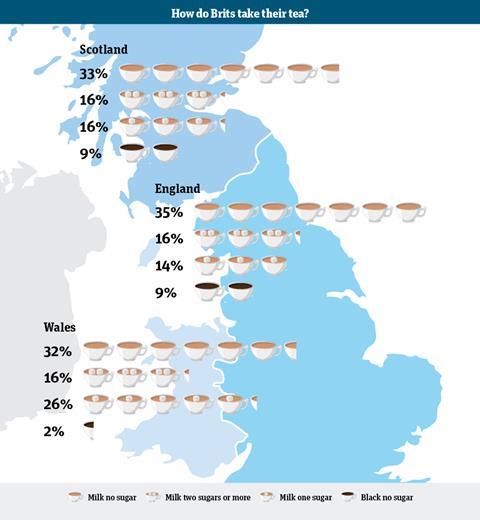 Taking a more regional view there is little variation between those who have milk and no sugar. But a closer look reveals the Welsh have a much sweeter tooth as 42% admit to having some sugar in their tea compared with just 30% of the English and 27% of Scots.
Despite calls by the government and health bodies to cut down on sugar, only 9% of Brits take sweeteners in their tea.
Previous article: Video: Tetley's top tea taster on how to brew up growth
Next article: Lidl buyer: Customers will pay for quality and convenience
In association with: