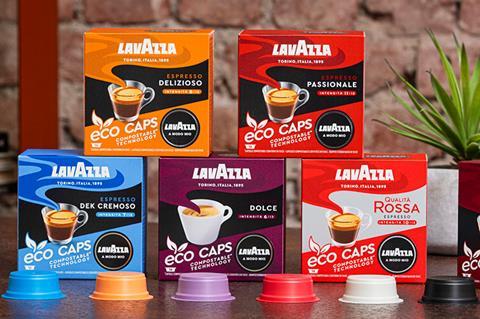 Lavazza is hoping to lure eco-conscious customers with the launch of 100% compostable coffee capsules.
The coffee giant is debuting Lavazza Eco Caps across its Passionale, Qualità Rossa, Lungo Dolce, Tierra Organic, Intenso, Delizioso and Dek Cremoso variants this month. It said it hoped to roll the concept out across its entire range of home capsules by the end of the year.
The pods were made with "an innovative material, a compostable biopolymer mainly based on renewable sources", said the brand, which biodegrades after 180 days if processed to become compost.
They also use "aroma safe" technology, which Lavazza said "creates a barrier against oxygen to keep the coffee fresh, preserve its quality and guarantee an excellent taste experience for its entire 18-month shelf life".
Lavazza has not changed the price of any of its products with the move.
The brand has partnered with recycling experts TerraCycle for the launch. It has set up a free nationwide composting programme for used coffee capsules.
A network of public access coffee capsule drop-off points will be set up across the UK, which can be found via an interactive map on the TerraCycle website.
"Currently there is limited availability across the UK in terms of the industrial composting facilities needed to compost many products," said Laure Cucuron, general manager, TerraCycle Europe.
"We are delighted to partner with Lavazza to provide consumers a simple yet effective way to ensure that the new Lavazza Eco Caps are composted correctly."
Each drop-off point will earn TerraCycle points based on the number of pods deposited, which can be redeemed as a monetary donation to the charity or non-profit organisation of their choice.
Lavazza is not the only brand moving to make coffee capsules more sustainable.
Barcelona-based brand Cafès Novell has also launched a new range of 'No Waste' coffee capsules, which it claims are fully organic and compostable.
The brand has ploughed more than €1.5m into a new design for its capsules, reducing the amount of cardboard used in them by 45%, and eliminating the plastic packs in which its capsules were previously preserved.
They have rolled out via the brand's online store (rsp: £3.60/10 capsules).