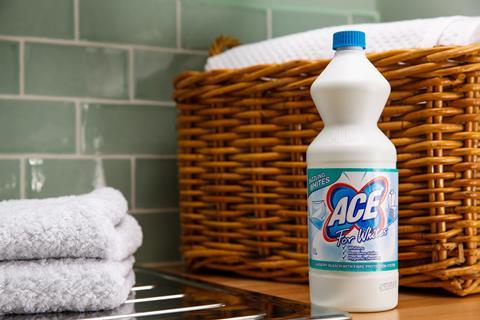 A report suggested the use of bleach containing sodium hypochlorite could eliminate the bug on clothing

Ace For Whites is claimed to be the only household washing product containing bleach with this ingredient
Laundry brand Ace has reported a 200% increase in sales after a report from European disease experts suggested using its products could kill the coronavirus on clothing.

The March report from the European Centre for Disease Prevention and Control suggested the use of bleach containing sodium hypochlorite in wash loads could eliminate the bug.

Ace's For Whites brand is claimed to be the only household washing product that contains bleach with this ingredient.

The brand said sales had grown alongside awareness of its "unique virus-eliminating assurance", resulting in more than one million bottles of Ace for Whites being sold across Spain, Italy and Portugal in April.

Its marketing manager Shirley Peet added Ace had "expected to see an uplift as people began stockpiling", but that the 200% increase "must be attributed to the fact that Ace for Whites is the only washing brand that contains the hydro bleach mentioned in the ECDC guidelines".

The issue of how to eliminate the virus from clothing was thrust into the spotlight last week with a Telegraph report that John Lewis had been in talks with the BRC about quarantining clothes shoppers had tried on. It is currently set to open with fitting rooms remaining shut.

Ace has seen significant uplifts in Ocado, Co-op, The Range and discount stores including B&M and Poundland, as well as "great sales" in Morrisons, it said.

It added to cater for the additional demand, its manufacturer Fater had reduced production of some personal care lines in its factory such as Tampax, which were "in much lesser demand", to focus on Ace.

However, Ace stressed it had managed to get all products to retailers without any supply issues.

Its UK distributor Robinson Young had put social distancing measures in place before lockdown to ensure no breaks in distribution or supply, it said.