Actiph founder Jamie Douglas-Hamilton (above, second from left) assembled the first team ever to row the perilous Drake Passage – to inspire others to get active and adventurous
It's the world's most treacherous stretch of water. In Drake Passage, the forces of the Atlantic, Pacific, and Southern seas wrestle through a 650-nautical mile strait between the pointy southern tip of South America and the northern reach of the tentacle-like West Antarctic Peninsula. The result is a violent cacophony of looming 40ft waves, bitter squalls and ever-changing (and freezing) weather.

Even the sturdiest seafarers who dare traverse the passage suffer from what some call 'The Drake Shake'. There is no easy way to make the crossing, but there is a hard way: rowing, in a 25 ft open boat.

"People told us we were going to die if we did it. That we had a death wish, we were stupid to even try," says Jamie Douglas-Hamilton, founder of alkaline ionised water brand Actiph.

Such a feat had only been attempted once before, but wasn't achieved by oar alone. That didn't stop Douglas-Hamilton and a small crew - captain Fiann Paul, a record-breaking Icelandic ocean explorer; first mate Colin O'Brady, the first person to walk across Antarctica unaided; ultra-endurance swimmer Cameron Bellamy and championship rowers Andrew Towne and John Peterson - to leave Cape Horn aboard the Ohana, on 13 December 2019. After more than a year of training and preparation, they were ready to embark on what has been dubbed 'the impossible row'.

What followed was a physical and psychological ordeal lasting 12 days - a journey the men would each end two stone lighter, shaken but (mostly) intact.

"Once you lose it mentally out there it's a very, very tough place to be regardless of how good a rower or how fit you are. This is all a mental game," says Douglas-Hamilton. "But if you really commit to something and believe, you can do it."

Douglas-Hamilton is not the first in his family to attempt the impossible. His grandfather is Douglas Douglas-Hamilton, 14th Duke of Hamilton and the first to fly over the summit of Mount Everest, in 1933, in an open cockpit biplane.

"He only cleared the summit by 20ft, taken down thousands of feet just before clearing it. Rather than going to one side to save himself, they decided to keep on going and just managed to clear it. Pretty lucky," Douglas-Hamilton says. The footage captured on the flight would be used decades later by Edmund Hillary to chart a route to Everest's summit.

"We grew up in awe of what grandad did," Douglas-Hamilton says. But emulating his achievements is a hard thing to do these days. "Every mountain's been climbed, and it's been climbed by new routes. There are no world firsts left - or that's what I thought. Until we looked to the oceans," Douglas-Hamilton says.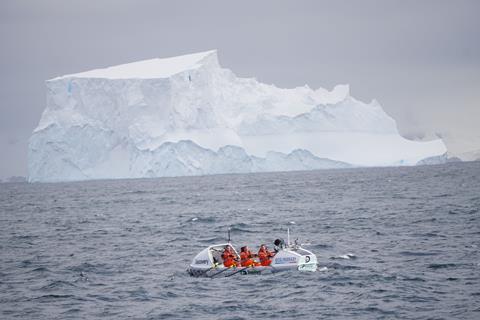 Seawater inspiration
The row across Drake Passage didn't come completely out of nowhere. Douglas-Hamilton's first rowing challenge was back in 2014. Along with Bellamy and four others, he rowed from Australia to Africa, 5,000 miles across the Indian Ocean.

There, he got the idea for his Actiph brand. As the crew "started to hallucinate and pass out at the oars" despite drinking up to 13 litres of water a day, there came the idea to mix a little sea water with their water supply.

"You'd have so much more power. I came back with the idea of making water more effective, but we didn't want to just add sugar or glucose," Douglas-Hamilton says. The result was ionised alkaline water, which has been shown to be more effective than standard mineral water in rehydrating people after strenuous exercise-induced dehydration. Douglas-Hamilton founded Actiph, the first alkaline ionised water in UK, and the brand launched in 2017. It is now stocked in Tesco, Sainsbury's, Whole Foods Market and Ocado.

During that period of growth, Douglas-Hamilton found himself reflecting on the feat that had inspired his venture. "You look back at it very favourably as being the best thing you've ever done. And your brain forgets the pain," he says.
"I came back with the idea of making water more effective, but we didn't want to just add sugar or glucose"
So he decided to embark on an even more strenuous challenge last year. Upon leaving the land in Chile, the crew of the Ohana entered a gruelling work schedule. Three of the crew rowed while the other three rested. Ninety minutes on, 90 minutes off, non-stop, 24 hours a day for the duration of the journey.

The breaks in rowing provided little respite. "There's nowhere to get comfy at all. As soon as you finish your shift you try to look after yourself. You get sores round your ankles and your bum, so you put on Sudocrem to make sure your blisters don't get too bad.

"Then you wait 10 minutes to boil up water, put it into a freeze-dried meal and have it. Have a muesli bar, have some water. Then you try and sleep. Just as it feels like you might be getting to sleep, you get woken up again and told it's your shift," Douglas-Hamilton says. "You're essentially having a whole lot of power naps."

Quite apart from power naps, the team needed a whole lot of power. Because rowing on Drake Passage is relentless. "Everything is trying to take us in a direction we don't want to go. You're constantly wet, you're constantly cold, and you still have to keep on going," Douglas-Hamilton says.

He started off with seasickness. As soon as that had passed, Douglas-Hamilton was dogged by pain in his ankles. A thread at the back of his sailing boots dug in on every stroke. "My feet were dry so I kept them on. For two days I couldn't sleep. I took them off and realised it had worn through the tissue to the actual bone. I had to wear trainers after that - the problem with that is my feet froze, and my toes were completely numb - and got frostnip," he says.

Even using the toilet - a bucket - proved perilous. "You've got to make sure you balance so it doesn't splat over everywhere. If you need to go and it's blowing a blizzard out there, you just hold it in, or make sure you're very well balanced. And you've got to take off all your protective gear in the cold, which isn't nice."

Throughout the journey, winds and waves came from every direction. "When you're in those storms it's the most humbling experience of your life," Douglas-Hamilton says. Capsizing was a constant fear: "The water is so cold that if you go in, you've probably got two to five minutes," he adds. Indeed, the cold was a defining feature of the row. "It makes you want to give up," the adventurer says. "Psychologically it's much harder when you hear that whistling of the wind and your hands and feet are already cold."

But just when it seemed the storms and swirling seas would never cease, the Ohana entered the shallower and calmer waters of the South Shetland Islands. There were icebergs "the size of towns" and cliffs rising like skyscrapers out of the sea - "the most beautiful scenery I've ever seen" - alongside wildlife such as whales, dolphins, albatrosses and penguins.

And on a less welcome note, a killer whale. "A killer whale came right for us, just like a scene out of Jaws. It came straight for our boat, then just before hitting went underneath. It circled us with two other orcas for a few minutes," Douglas-Hamilton recalls.

Then finally, on Christmas Day, the crew reached mainland Antarctica. They had been rowing practically non-stop for 12 days. To greet them was a colony of penguins. "It was such a happy moment - we'd gone through so much pain and suffering. There was that realisation you'd done it, done something no one else had done," Douglas-Hamilton says.
"Adventuring and entrepreneurship are similar. You've got to have an idea and be prepared to put the hours and work in"
It is not uncommon for rowers to never speak to each other again after an expedition. The gruelling conditions, the length of time together, and the fact "big characters" are often drawn to such challenges, means some crews irreparably fall out. Here, they were lucky. "On this one it didn't happen because it was so tough right from the start. Everyone knew they were going to struggle to get through it so they had to be supportive of one another," Douglas-Hamilton says. "Out there when you're cold and wet, going side to side, getting blisters - it's very, very easy to lose it, and lose the team dynamic. But we didn't. We're now the best of friends."

The journey home - which took six days on the boat that had been following them back to Chile and two days flying back to the UK - was quickly followed by a trip to the local butchers to buy a "steak pie for six", which was polished off in the course of an hour.

Returning to work and "picking up where you left off" took some adjustment. But Douglas-Hamilton says he is maintaining the spirit of adventure at Actiph.

"Adventuring and entrepreneurship are similar. You've got to have an idea, have that vision, sell it, get funding for it, get a team and be prepared to put the hours and work in and suffer for long-term rewards," he says.

Douglas-Hamilton encourages his team to make great feats of their own, and hopes Actiph customers will be inspired too.

"I hope this expedition will inspire people to follow their dreams and to challenge the status quo," he says. "What might seem impossible rarely is if you truly believe in what you are doing and are determined to make it a reality."
Adventurers in fmcg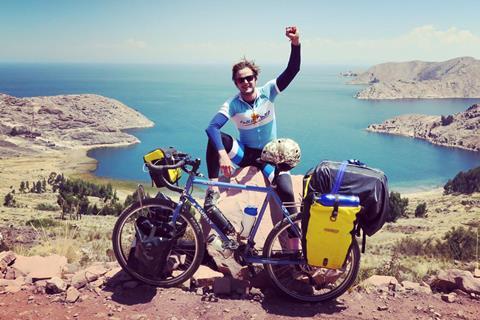 Whittle's epic cyle in South America (and run across Iceland)
In 2017, Tom Whittle cycled 12,500km across South America with two friends, spending 300 days in the saddle and raising £50,000 for charity. Later that year he set a world record by running the 704km length of Iceland in 10 days.
"I was a bit lost in my direction and career, stuck working long hours and weekends for causes I didn't really believe in as a commercial lawyer," says Whittle. "The trip offered time away from that to work out what I wanted to do, to push and develop myself on so many different levels." It was the start of a new life, and one that led him to found his performance-enhancing tea brand Mission.
But it wasn't all plain sailing. "The hardest part was the start. I spent 24 hours on a drip after becoming paralysed in my arms and legs at 4,000m. This was on day four - I thought I'd made a huge mistake by quitting my job. For 10 days after that we had no human contact, so that was scary.
"I'll always remember the crossing of the Andes between Argentina and Chile. I was on top of my diet and my fitness was really up. Faced with a snowed-over route we decided to climb over.
His advice? "The risks you take are never as big as you think. If you're unhappy, often the biggest risk is to do nothing. Persist and be consistent every day. Think positively."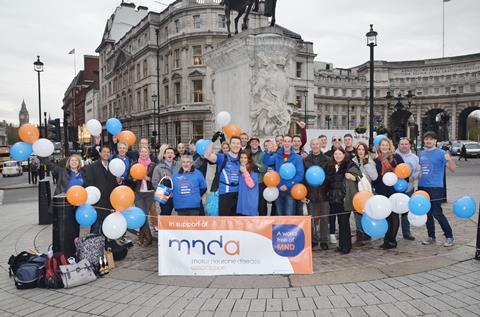 How Knowles ran 13 marathons in 13 days
In 2013 fitness fanatic Dave Knowles, who was working for C&C at the time, took on this challenge to raise money for the Motor Neurone Disease Association in memory of his wife's mother.
He opted for 13 marathons after discovering that it would take that many to run from Newcastle to London. "I had run the Dublin marathon, the Edinburgh marathon and the Kielder marathon, but never done more than 26.2 miles in one go. I didn't have long in the year left to run it, so set off on 1 December and arrived, 341 miles later, in London - on 13 December of course.
"It was pretty windy between Harrogate and Halifax. Trees had been blown down on the route. An ice bath at the end of each day helped keep my legs in good shape.
"It was a fantastic feeling running into Trafalgar Square because I had reached my goal, exceeded the [£13,000] fundraising target [Knowles's efforts raised nearly £17,000], and loads of my friends and family turned up to celebrate at the finish.
Knowles is now MD of fmcg training provider Alpine Account Management. He's also worked for Innis & Gunn, AB InBev and United Biscuits.
His advice? "Action cures fear: if you want to do something just go for it! If you set your mind on a goal, you can achieve it with a bit of hard work and determination."