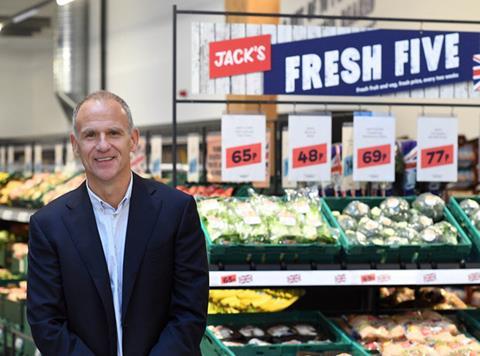 Considering Tesco boss Dave Lewis's insistence that the supermarket had been working on the launch of discount chain Jack's for more than three years, there was last-minute feel about today's big reveal.
As the hordes of visiting press and stakeholders descended on the unsuspecting Cambridgeshire town of Chatteris, location of the first store, the new Jack's signage was still being finished off. Inside, meanwhile, conflicting banana prices were on display.
Lewis stressed that the last few hours before the opening would see a number of key tweaks and changes. But while it is the nature of the beast for retailers to operate on the edge, it was more surprising to see Tesco in something of a muddle about perhaps the key ingredient of the new operation – its ability to compete on price with the all-conquering discounters.
The retailer was – either unintentionally or deliberately – vague on this subject. At times it was downright contradictory about what Jack's pricing strategy would be, creating the impression that things were being made up on the hoof.
Jack's, billed as Tesco's answer to all- conquering discounters Aldi and Lidl, will surely stand or fall on the claim of Lewis in his introduction to offer "the cheapest prices in town". So one would think Tesco's senior management would have the pricing message nailed down.
Instead, first Tesco chief customer officer Alessandra Bellini assured the assembled media that Jack's would operate a "national pricing strategy" for its 2,600 products, 1,800 of them Jack's own-label, the rest made up of brands.
The impression given was that Jack's stores would offer either cheaper, or at the very least equitable prices, than any of its rivals across all 2,600 products, on a nationwide basis. In other words, Jack's customers would get better prices than at mainstream Tesco stores, as well as those at Aldi and Lidl.
Then Tesco UK chief executive Jason Tarry said that while the 'special buys' on offer in Jack's Lidl and Aldi-inspired bays would be fixed nationally, brands would be priced based on competition "within the local area".
Even Lewis contradicted his chief customer officer. He said prices would be based on a highly localised system, with Tesco employing local pricing teams to ensure they were cheapest in the locations in which they operate.
"What we have said is we will be cheapest in town," Lewis repeated. "For example, we will make sure that here in Chatteris we will be testing baskets to make sure we are cheaper than anyone else.
"We can't be national with 10 or 15 stores. That's why we've set pricing parameters to be the cheapest in the towns we operate in."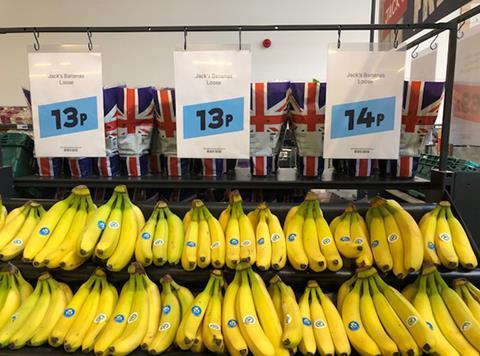 Lewis was also noticeably vague about just where this leaves existing Tesco customers. Would they always be better off shopping at Jack's?
"Prices are going to be on a par or in the same ballpark as the 'Exclusively at Tesco' brands," Lewis added – a confusing statement, considering his denial of a national pricing policy.
It is of course understandable for Tesco to be nervous about the message it sends out on price. The last thing it wants is to have its core shoppers think they are missing out on cheaper prices, just at a time when its investment in own label has got it into a more competitive situation with the discounters.
Yet those investors hoping Tesco's new chain would send a warning shot across the bows of Aldi and Lidl will have been disappointed at its mixed messages.
"Jack's is not offering national pricing, it's local pricing based on best in town," said Tony Hoggett, chief operating officer, in an attempt to clarify. "Currently in Tesco we have national pricing. In Jack's we are able to compete locally.
"We know the competition are really sharp on price and we need to be the same."
The difference between Aldi and Lidl and their new rival is tangible, and it's not just in the tiny number of Jack's stores in the pipeline.
The German discounters are always crystal clear with their price messages. Tesco needs to make sure it brings the same certainty to Jack's, or there will be more to worry about than mixed-up banana prices.