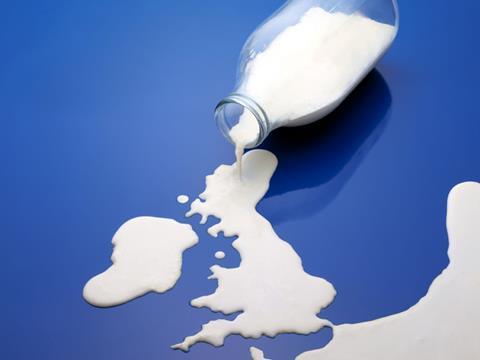 First Milk is to defer farmer's milk payments by two weeks in a bid to recapitalise the business, ahead of a crucial spring for the dairy industry.
Citing cashflow pressure and losses accrued during the early period of its financial year, and the effects of "rapidly falling markets", the farmer-owned co-operative announced this morning (8 January) that its supplier milk payment planned for 12 January would now be deferred until 26 January, with all future payments also being deferred by two weeks.
In a statement, First Milk said that despite "aligning milk prices with market returns to balance the books since October 2014, there remains a gap of 1 pence per litre on an annualised basis due to these earlier accrued losses, which has restricted the cash available to the business."
First Milk chairman Sir Jim Paice MP, said the co-operative's lenders had been "supportive as we have dealt with this volatility, with the added uncertainty of the imminent EU quota removal", but added that "the board has taken the decision to re-build the fundamentals of the business ahead of the spring flush."
As a result of the payment deferral, Paice added that First Milk would reverse 1.1ppl of its recently announced price reductions (which saw it slash its manufacturing price to 20.47ppl from 1 February, and its liquid pool price dropping 1.6ppl to 20.1ppl).
The Scotland-based processor also plans to increase members' capital investment from 0.5 to 2 ppl for milk supplied from December 2014 up to August 2015, and will increase members capital investment targets from 5 to 7 ppl.
"These moves will deliver a cash injection into the business and play an integral role in putting our finances and our business on a stronger platform as we approach the spring flush," Paice said.
The announcement was met with "serious concern" by the NFU, which warned the deferral effectively saw farmers having a further cut to their milk price and a delayed payment for milk they supplied in December. NFU president Meurig Raymond said the union's first priority would be to meet with First Milk to seek answers to "very specific questions about how this will impact on our members."
Late payments and a bigger price cut would "put more pressure on dairy farmers who are already under immense financial pressure," he warned.
Paice said First Milk "understood" the deferral "will cause concern for members as direct debits and payments will have been lined up against milk cheques." On that basis, he added that the processor was "working with all major banks at national, regional and local levels to explain the rationale around this decision."
Liberal Democrat president Tim Farron MP, described the announcement as "awful news for many farmers and could put the viability of some farms at risk".
In a letter to fellow MP Jim Paice, he urged First Milk to reverse its deferral decision, warning it needed to "realise that farmers cannot just defer bills (and) direct debits or ignore the demands for payments".
Late payments from First Milk, along with a bigger price cut, will put more pressure on dairy farmers who are already under immense pressure

— NationalFarmersUnion (@NFUtweets) January 8, 2015
Seriously tough times for First Milk producers, how have they managed to get so far off the pace??

— Rob Cooke (@Rob_ClottonHall) January 8, 2015