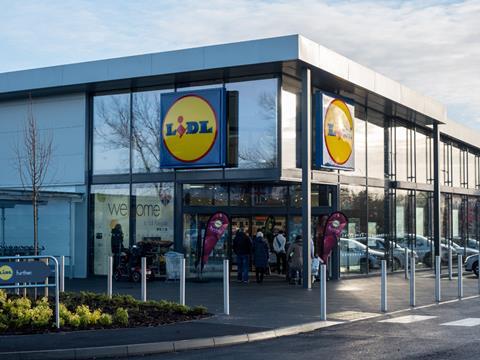 Lidl plans to add 70,000 sq ft of space to a distribution centre after buying land next to the site.
The discounter has acquired the land needed to extend its Bridgend DC in south Wales from 320,000 sq ft to 390,000 sq ft. The extension will enable Lidl to grow the workforce of 233 staff currently employed at the site.
It will also provide extra capacity to serve its growing network of 58 stores in Wales.
Bridgend is one of 13 Lidl DCs across England, Scotland and Wales. The news of its extension follows the recent opening of the latest – and biggest – a 600,000 sq ft facility in Eurocentral, Scotland, replacing an existing warehouse in Livingston.
Another four openings are planned – in Bolton, Peterborough, Luton and Leeds – as Lidl pursues its target of growing its estate from 790 to 1,000 stores by the end of 2023.
"We first opened our warehouse here in Bridgend in 2004, servicing Lidl stores across Wales," said Lidl GB regional director Simon Hedderman. "In this time we have experienced considerable growth, with more customers shopping in our stores than ever before.
"In addition to providing new state-of-the-art facilities for our colleagues, the extension will enable us to expand and strengthen our operations across Wales, whilst creating even more job opportunities to support the local community."
Chief development officer Ingo Fischer said: "As part of our expansion plans and to support our store growth, we have been working hard to strengthen our infrastructure, through the opening of new warehouses and the development of existing operations.
"The expansion of our Bridgend distribution centre will ensure that we are able to provide continued support to our current store network in Wales, whilst paving the way for future growth."