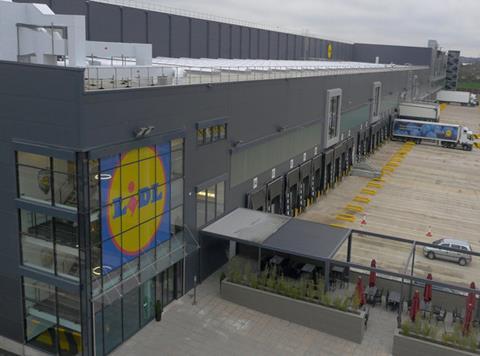 Lidl UK is planning to open its biggest regional distribution centre yet after exchanging contracts on a 34-acre site in Peterborough.

The 754,000 sq ft depot will be the discounter's 15th UK RDC and will create up to 500 new jobs for the area.

Lidl said the warehouse, the sixth new RDC it has announced in the last year, will utilise the latest energy efficient and zero-carbon technologies.

"We are very excited about our proposed regional distribution centre in Peterborough," said head of warehouse expansion Adrienne Howells. "Our expansion across the UK is progressing rapidly, and it's important we have the right supply chain infrastructure to support this. Peterborough is ideally located and we're pleased to be bringing more jobs to the local community."

Lidl UK will now seek to obtain satisfactory planning consent for the site.

Earlier this year, Lidl opened its 11th warehouse in Wednesbury and more recently announced the start of construction of its Doncaster RDC, and the relocation of its Scottish RDC to larger premises on the Eurocentral industrial estate in North Lanarkshire. A further warehouse in Bolton is also in the pipeline, along with the relocation of Lidl's Weston-super-Mare distribution centre to Avonmouth.

The Peterborough move is part of Lidl's plans to invest £1.5bn in its expansion between 2017-2018.