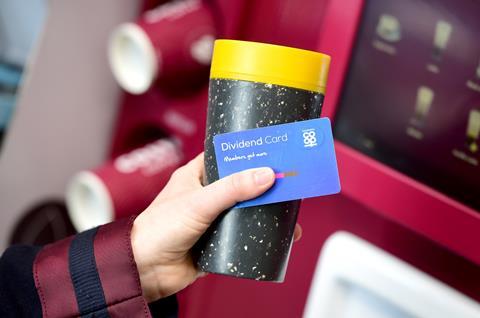 Lincolnshire Co-op has launched a new scheme to reward customers for filling up at its Costa Express machines with reusable cups.
Co-op membership card holders will receive an extra 25p dividend for each refill at one of its 69 Costa Express machines.
A customer who grabbed a caffeine fix five days a week would save 260 single-use cups and would make an extra £65 in dividend a year, according to the society.
Each Lincolnshire Co-op outlet with a Costa Express machine now has a range of 'rCups' on sale. The society claimed these were the world's first reusable cups made from recycled single-use coffee cups.
"We believe we're the first Costa Express retailer nationally to offer a reward to our customers for choosing to use a reusable cup," said Lincolnshire Co-op store development manager Matthew Wilkinson.
"Our Costa Express service is popular, particularly in our petrol stations, and it's part of what makes us a successful convenience retailer. But as well as providing services our customers want, we also need to look after the local environment," added Wilkinson, who is a member of the society's environment group, which looks at ways to make the business greener.
"We hope this incentive will encourage people to make the switch to reusable cups and reduce the number of single-use cups we issue."
Lincolnshire Co-op currently has more than 280,000 dividend card holders.