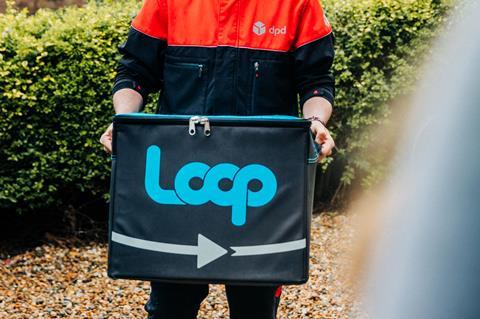 The UK pilot of reusable packaging platform Loop has launched today in partnership with Tesco, after being delayed due to coronavirus.
From this week, customers can shop a range of products packaged in durable, refillable containers on a dedicated website and have them delivered to their homes in a reusable shipping tote bag. Users pay a deposit fee on each piece of packaging. Once the products have been consumed, the containers are put back in the tote, and dropped off at one of 2,500 DPD collection points across the UK or picked up by Loop, either on request or at the next delivery.
Loop sorts and cleans the empty containers "to stringent health and safety standards" for reuse, before they are refilled by suppliers.
"Cleaned and refilled products are simultaneously replenished as needed to the consumer, creating a convenient and safe zero waste shopping system," Loop said.
From 2021, Loop-listed products in reusable containers will also be available in dedicated aisles in Tesco stores.
Tesco CEO Dave Lewis said the partnership had been "designed to test a new way of helping customers use less plastic and explore the exciting potential of reuse".
"We will learn what works at scale as we develop plans with Loop to introduce reusable packaging into our business," he said.
Several major and emerging fmcg companies have signed up for their products be listed on the Loop platform. Among them Heinz Tomato Ketchup (Heinz), Coca-Cola (Coca-Cola European Partners), Danone, Nivea (Beiersdorf), REN Clean Skincare, Love Beauty and Planet, Persil (Unilever), Molton Brown (KAO), Finish (RB), Bulldog Skincare, Jackpot Peanut Butter, BrewDog, Join the Pipe, La Biscuiterie de Provence, Chestnut Cheeks and Noicecare.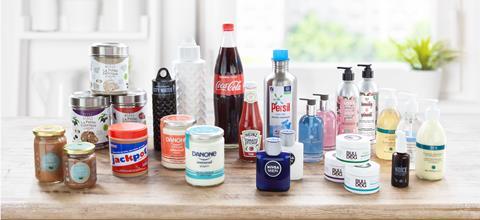 DHL will support Loop's warehousing, fulfilment, returned deposit scanning, and process all cleaned containers for distribution back to manufacturers. Several DHL warehouses have been fitted with cleaning technology from Ecolab to do so.
"Loop was designed from the ground up to reinvent the way we consume by learning from historic circular and sustainable models like the milkman from yesteryear, while honouring the convenience afforded by our single-use consumption of today," said Tom Szaky, founder and CEO of Loop and TerraCycle.
It is understood an initial 5,000 early adopters in the UK will be given access to the Loop platform.
The UK launch – which had been slated for March – follows pilot local site launches in the US and France last year. Carrefour will start listing Loop products on its own e-commerce site later this year. Walgreens and Kroger in the US will this year launch dedicated aisles where Loop products can be picked up and containers returned.
Availability of the platform in Canada, Japan and Australia is scheduled for later in 2020 and early 2021, "making it a truly global movement" Loop said.