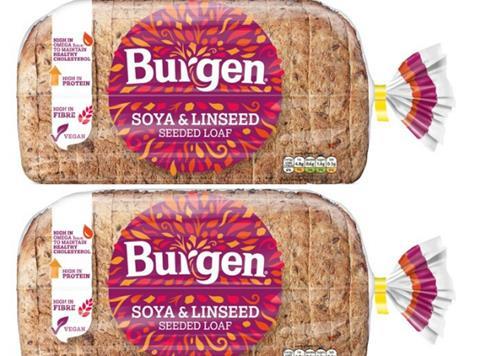 Allied Bakeries is aiming to "breathe new life" into Burgen – less than two years after an overhaul of the struggling wrapped bread brand failed to reverse its fortunes.
Revamped packaging and marketing activity were unveiled this week, with NPD promised for spring 2019 to "tap the health concerns and priorities of consumers".
The "vibrant" new look, rolling out now, follows a redesign in February 2017 – when plans for new variants were put on hold because "timings weren't quite right" said Allied.
"Now, we have moved the packaging on again. It's evolution, not revolution, retaining the roundel and cornucopia, but pulling out the claims more clearly and optimising the colours to stand out even more."
A push called #DiscoverBurgen kicked off today (20 November) featuring partnerships with TV presenter & wellbeing advocate Melanie Sykes and Harley Street nutritionist & author Rhiannon Lambert. With a budget of around £300k, it was "one of the biggest investments in the brand since its UK launch in 1997" Allied said. Both ambassadors will help educate shoppers about "the unique combination of claims of Burgen's Soya & Linseed loaf".
The brand also plans to open a pop-up Bakery Café next year – with the aim of "challenging social media influencers to help debunk the myths around bread and raise awareness of Burgen's benefits". Details are yet to be confirmed.
Now was the "perfect time to make a significant investment in the Burgen brand and its long-standing history of delivering a great tasting loaf with genuine health benefits" said Kate Hope, brand manager at Allied Bakeries.
She added that "55% of UK consumers consider nutritional ingredients one of the top three most important factors in a purchase decision, with 23% considering this the most important factor".
Burgen's value in UK grocery has been in decline for the past three years – since when it has fallen from £12.2m to £7.2m [Nielsen 157 w/e 8 September 2018].